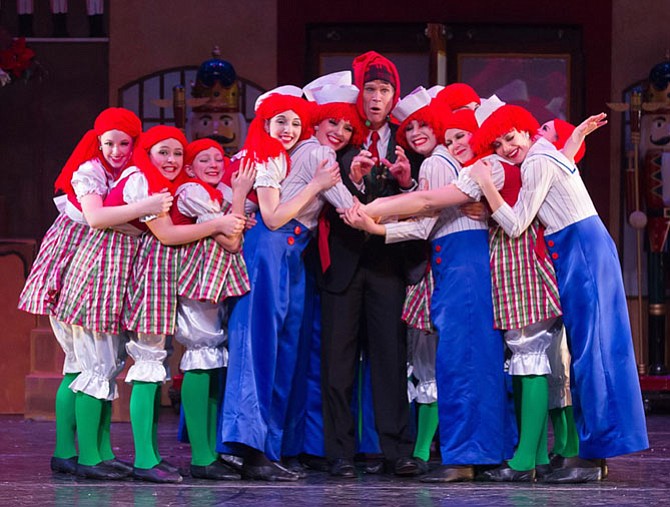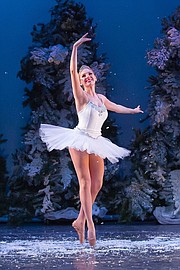 Reindeer, elves and dancing snowflakes are all part of the holiday joy in Encore Theatrical Arts Project's upcoming musical extravaganza, called "3 Days 'til Christmas!" it'll be presented at NOVA's Ernst Community Cultural Center, 8333 Little River Turnpike in Annandale.
Show times are Friday, Dec. 12 and 19, at 8 p.m.; Saturday, Dec. 13 and 20, at noon, 4 p.m. and 8 p.m.; and Sunday, Dec. 14 and 21, at noon and 4 p.m. Tickets are $19- $23, with special prices for Girl Scout troops, at www.encore-tap.org/tickets/.
It's almost time for Christmas, but where are the gifts and why are all the children's names on the naughty list? What kind of mischief is happening at the North Pole? To find out, the audience will travel back to three days before Christmas. A girl who tests toys wants to become an elf; meanwhile, the head elf doesn't want any of the toys to leave the North Pole.
The cast of 37 Encore performers, plus three professional actors – including narrator Edward Baker-Duly – have been rehearsing since July. "They're doing amazingly well," said Director and Choreographer Raynor van der Merwe. "The girls have matured so much this year, and seeing their growth makes my heart sing."
The scenes take place inside Santa's workshop, outdoors at the North Pole, at the reindeer barn and at a sweet shop. Van der Merwe said the audience will enjoy the performers' enthusiasm, the colorful costumes and professional sets. "And besides the joyful story that's told, there'll be songs they're familiar with and already love, as well as new holiday tunes woven in," she said.
Portraying the toy tester, Ginger, is Faith Chun, 10, of the City of Fairfax. Dancing since age 3, she's been with Encore two years. "Ginger's lovable, and her playfulness is contagious to the elves, so they want her to stay at the North Pole," said Faith. "She's really loud and is around my age, so she's fun to act."
Playing a lead role, she said, makes her feel "nervous and confident at the same time." But she's excited that her character "helps save Christmas."
Renee Griese plays Dancer the reindeer. "She keeps the other reindeer in line and is the leader of the pack," said Griese. "She's easily irritated and wants everything to run smoothly, and I like keeping things in order, too."
A dancer since age 3, Griese says she can have a bad day, but then "come to dance practice, forget about it and just enjoy myself." Her favorite song in this production is a new one called "Nuttycracker Suite." In it, she said, "There's black light and we dance behind a curtain reflecting our shadows, so it's a special-effect number." Griese said people of all ages will "have fun and find the show entertaining. The storyline's really engaging, and our two new actors are hilarious."
Monica Brown attends the Fairfax Academy's dance program and is in her seventh year with Encore. "I fell in love with dance when I was 3," she said. "You can escape from all the outside drama in your life and put what you're feeling into movement."
As Prancer the reindeer, Brown's character is competitive against Comet the reindeer. "Ginger's just come to the North Pole, and we're both trying to impress her with how cool we are," she said. "I love playing a reindeer; she's prim and proper, like my own personality, so I can draw from personal experience."
Brown especially likes the number, "Let it Ring, Let it Swing, Let it Snow." Hoping to eventually become a Radio City Rockette, she said that song is a Rockette-style number with kick lines and precision steps." Brown said the audience will enjoy all the different songs and dances and will like seeing Santa, elves, reindeer and snowmen. And, she added, "It'll really get them into the Christmas spirit."
Alia Artieda is a homeschooled senior who's been with Encore since age 6. "Dancing is so much fun, I couldn't think of doing anything else," she said. In this show, she's in several of the numbers.
"My favorite dance is 'Toyland,' when all the toys come to life," she said. "There are rag dolls, jesters, toy soldiers and ballerinas, and I'm a ballerina. It's fun because it has so many different styles of dance. The dancing in this show is something everyone will enjoy; there's always something new."
Mikaela Vasconez finds dancing "freeing" and also performs in many of the numbers. She likes "Sing a Little Song" the best. "It's jazz, we're holding presents as we dance and it's very graceful," she said. "We wear candy-cane-striped leotards on top with gold, ruffled skirts."
As for the show, she said, "It's family-friendly. There's lots of great dancing, funny acting and a heartwarming story with a satisfying resolution."