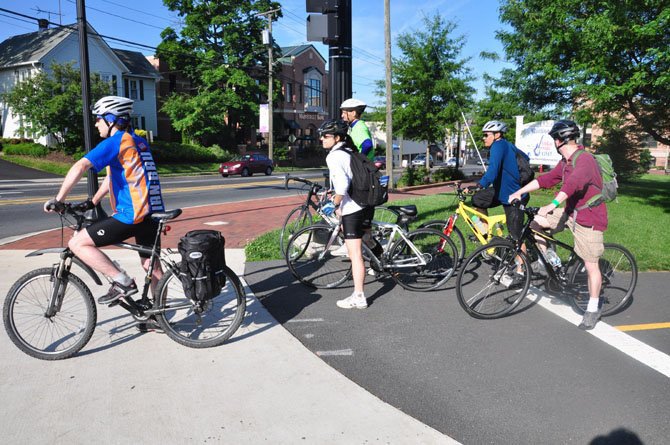 Although Herndon's Silver Line station is not slated to open for several more years, rezoning measures are taking place to redevelop downtown.
Taller buildings and beautified shared use space are some of the more recent resolutions passed by the Herndon Town Council and heavily supported by the community.
Buildings will be allowed to climb 54 feet into the sky rather than the 50 foot high currently allowed within the town limits, according to the new zoning laws approved at the May 27 town council meeting.
"The possibility of going up to 54 feet is not scary for downtown," said Mayor Lisa Merkel.
The area downtown currently uses for public parking and Herndon ArtSpace, is now allowed multi-family residential and in the three-to-four story buildings, changing the zoning from Central Commercial to Planned Development Traditional Downtown, according to Director of Community Development Elizabeth Gilleran.
Streetscapes for Center Street and Station Street were fully written out, including planting beds used for stormwater purposes on Center Street and brick pavers and canopy trees on Station Street.
Better pedestrian pathways will be created to connect main downtown to the Washington and Old Dominion Trail. A small public open space is planned at the corner of the W&OD Trail and Station Street to create a more walkable shared space.
Merkel said 16 emails sent to the town were in favor of the new zoning laws, while one expressed concern.
"In no way is this the end-all-be-all," said resident Steve Mitchell. "I think, overall, this is a good step."
Resident Marsha Bouchard said she moved to Herndon three years ago with her husband because of the potential.
"There's something here for everyone," she said. "We need to attract the right developers."
Resident and business owner Arthur Nachman said the building height change is an important change to get more developers interested in Herndon.
"I thought the 54 feet (decision) was absolutely critical," he said. "It's a market-driven number. I think it will mean a much better product and something we can be proud of."