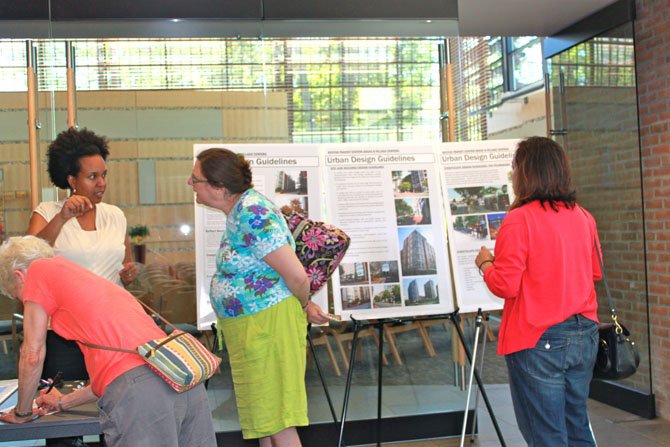 Reston's Phase II of its Master Plan is underway.
More than 100 residents came to the plan's Phase II open house Saturday at United Christian Parish to learn what areas the county is looking to redevelop.
"People are anxious if they live in an area that may be affected," said Hunter Mill Supervisor Cathy Hudgins. "This is an opportunity to voice their concerns as we look forward."
Residents had the opportunity to walk through UCP's lobby and look at posters marking areas that will be studied for redevelopment.
Phase I of the plan focused on the areas surrounding the Metrorail stations. Phase II will look into redeveloping the village centers, residential areas and in the wider Reston community, focusing on the area north of Reston Town Center. The Soapstone, Lake Newport, Fairways and Sunrise Valley convenience centers will also be evaluated to determine updates per the community's expectations.
"The plans assume the village centers will stay the same," said Fairfax County Planning and Zoning Planner II Richard Lambert. "We are creating a process where, if the village center owners want to change the centers, there is a Reston specific hierarchy to value their amendment process."
He said more tangible plans for more open space, more affordable housing or other ideas for Reston will transpire in the next six to seven months.
Hudgins said many residents were concerned about the challenges with traffic when the Silver Line Metro stations open up this summer. The first stations are slated to open as early as next month.
"Lake Anne Fellowship House is going to be stuck in the traffic pattern," said LAFS resident, Beverly Bugos. "They're going to build a high rise luxury apartment on the hill where we are."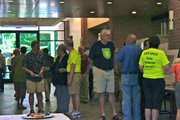 Bugos was also concerned that Reston's green spaces would be reduced.
"I think we have to be cautious about too much development of the spaces that are green," she said. "At Lake Anne Fellowship House, we have a beautiful walking path and tons of trees there."
She was not the only resident concerned that open, green areas will be lost as Reston is redeveloped.
Michael Hurley lives in Golf Course View and said he heard the golf course may be turned into a commercial area. He, and several others at the event, wore a bright yellow shirt that said "Rescue Reston."
"Our concern is that the green areas should remain green area, or we'll lose what makes Reston what it is."
Hudgins emphasized that the Comprehensive Plan is only beginning to be analyzed.
"There are no plans on the table," Hudgins said. "The next step is to go out and let people know. We'll schedule meetings."
For more information about Phase II, visit http://www.fairfaxcounty.gov/dpz/reston/about.htm.