On Monday, June 9, at the National Air and Space Museum Udvar-Hazy Center in Chantilly, American Armed Forces Mutual Aid Association (AAFMAA) commemorated 135 years of protecting our nation's military families. Led by Maj. Walt Lincoln — president and treasurer of the Association — dignitaries, military leaders and service members of all ranks came together to honor those who contributed to AAFMAA's success over its long history.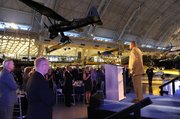 Army Master Sergeant Caleb Green's national anthem tribute opened the event as AAFMAA members and friends of the organization paused to honor our country and military service. Maj. Lincoln provided the keynote remarks about the significance of AAFMAA since 1879, following the Battle of Little Bighorn -- "Custer's Last Stand" -- when the 7th Cavalry suffered a severe defeat. During this time, it was common practice for surviving soldiers to take up a collection for families of fallen soldiers by "passing the hat" throughout the unit. Due to the mass fatalities of the battle, there were no surviving soldiers to pass the hat to, thus creating the void that AAFMAA has filled for the last 135 years.
The Ft. Myer-based organization, which maintains over 90,000 members spanning current and former Soldiers, Airmen, Sailors, Marines and Coast Guardsmen, is the oldest private, nonprofit organization exclusively serving the American Armed Forces community. The nonprofit association has protected military families through multiple wars and times of crisis from the Spanish-American War to the present.