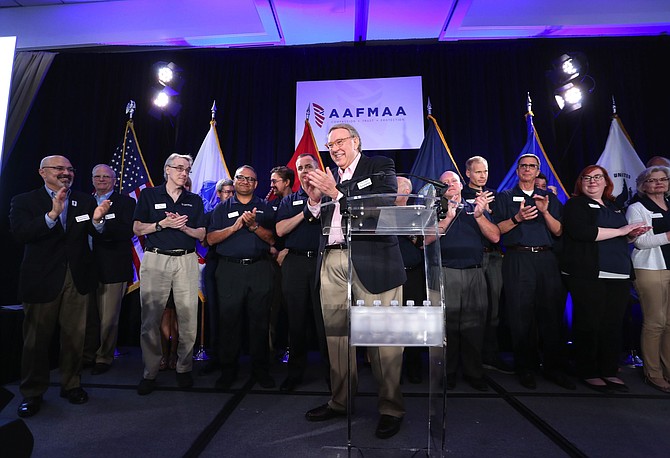 The American Armed Forces Mutual Aid Association (AAFMAA), the nation's longest-standing military financial services not-for-profit organization, celebrated its 140th Anniversary with a reception on June 10, 2019 in Chantilly. The event honored the Association and individuals who have contributed to AAFMAA's growth, as well as its valued members, all of whom are current or former members of the military.
The evening began with a reception for AAFMAA Members, employees, and partners, and progressed with remarks from AAFMAA Chairman General (Retired) Dennis Reimer, Douglas Jemal, Keynote Speaker, and AAFMAA's President and Treasurer Major (Retired) Walt Lincoln. Throughout the evening, AAFMAA celebrated its role in the military community and highlighted AAFMAA's service to the families of those who have fallen.
Speakers discussed how AAFMAA provides its Members always-affordable life insurance and survivor assistance, including expedited death benefit payments, helping survivors secure government benefits, and preparing government and insurance claims. They also addressed how AAFMAA has expanded to offer mortgage services, financial planning, investment management, and trust services to its more than 86,000 Members and the entire military community.
Additionally, the celebration reflected on AAFMAA's beginnings in 1879, shortly following The Battle of The Little Bighorn, which starkly emphasized the desperate circumstances of bereaved Army families. The War Department identified the need to provide the families of deceased soldiers with financial assistance and benefits in a timely manner. While AAFMAA initially provided services exclusively to Army officers and later to Air Force members, the association now offers membership to current and former servicemembers of all ranks and from all branches of the U.S. Armed Forces.
"For 140 years, AAFMAA has supported and protected members of the military and their loved ones. This celebration provides our members, staff, and community leaders with the opportunity to reflect on the great success of these efforts and to look ahead at a future of continued service," said AAFMAA Executive Vice President and Secretary Brigadier General (Retired) Michael Meese. "Whether it's through our well-established services like life insurance and survivor benefits or newer offerings such as mortgage services and wealth management, our goal remains the same — protect and support those who have guarded our nation's freedom."