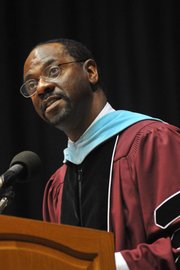 On behalf of the Alexandria City Public Schools I would like to welcome all of our parents, friends, elected officials, podium guests and staff here to celebrate our soon to be graduates. This is a special day as we salute the Titan Class of 2014.
My special thanks to the parents for trusting us with the education of your student; Principal Maxey for her unwavering commitment and leadership; and this great T.C. Williams faculty for your hard work, mentoring and sacrifices to get these young people to this day.
I have had the pleasure of watching you from the homecoming pep rally to the recent senior night awards, and know that this is a class full of talented and smart leaders ready for a new challenge.
Students, as you prepare for the next leg of your journey, I offer these words of hope, opportunity and responsibility.
First, it is my hope that we have done everything to prepare you to achieve your post-secondary choices. ACPS offers a wealth of courses and extracurricular activities. I hope that you have taken advantage of these activities and that they have helped you develop your leadership skills, fueled your interests and talents and served as a venue to meet lifelong friends. I also hope that you have given your next steps in life great thought and that as you leave here you are leaving with a plan. It is one thing to dream, but the ultimate measure of success will be your ability to turn dreams into a reality.
Second, take advantage of all opportunities that will help you achieve your goals. Greet each day as a new opportunity to make a difference in your life and the lives of others. Every day is a gift. There will be ups and downs, but when you are down get back up and keep moving. Remember, once a Titan-always a Titan. Look for opportunities to give back to our school community-we need you.
Third, take responsibility for your actions. Know what you will stand for and take a stand against. One of my favorite passages written by the late Nelson Mandela is: "I have walked that long road to freedom. I have tried not to falter; I have made missteps along the way. But I have discovered the secret that after climbing a great hill, one only finds that there are many more hills to climb. I have taken a moment here to rest, to steal a view of the glorious vista that surrounds me, to look back on the distance I have come. But I can only rest for a moment, for with freedom comes responsibilities, and I dare not linger, for my long walk is not ended."
Today, you have earned the right to move to the next milestone of your journey. As you leave ACPS, travel with confidence, a commitment to healthy practices, a sense of compassion, a lifelong thirst for learning, an abiding faith and relentless determination to achieve your goals.
Congratulations and my very best to each and every one of you.