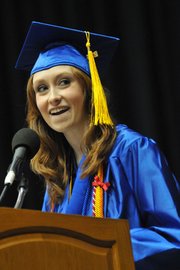 Welcome family, friends, distinguished guests, and fellow Titans.
A lot of classmates and parents have told me over the past couple of days, "Congratulations on being Salutatorian, you really deserve it." As much as I really appreciate these comments, I am not sure that I agree with them. I am standing here in front of you simply because I have the second highest GPA in our graduating class. Because of this, I think I deserve acceptance into a great college. I may deserve the semi-comfortable chair behind me that I get to sit in. However, I definitely do not deserve to be making a speech that supposedly represents the Class of 2014 when I have never even met a lot of you.
Normally in these speeches the student will list off some of their favorite memories from high school and maybe highlight a few accomplishments of peers — probably their friends. There are so many aspects of T.C. Williams that I love and cherish, but honestly, I spent most of my lunches studying in classrooms instead of socializing in the cafeteria so how am I to supposed to know what people actually think is the best part of TC.?
I was contemplating this yesterday because that is what I would truly like to share with you. And I thought to myself, what better way to be the voice of the people than to literally be the voice of the people? So I scavenged the yearbook and social media and compiled what I thought were really fantastic statements about TC. Some are from friends, some are from that random kid in freshman history, and some are from seniors that I've never even heard of before — if that's you, please find me at some point, I'd really love to meet you. So here it is, a look at the gems of TC:
Ana Blanco-Argueta treasures helping kids in need with her AVID class. Rebecca Calderon enjoyed meeting her best friends in the library every morning. Ciana Jones is an enthusiastic reader of our school newspaper, Theogony. Kyreem Walton will never forget making history during the 2013 football season by advancing to the playoffs for the first time in 22 years. Brittany Yu had a blast performing with the band at the half-time show of the Sugar Bowl in New Orleans. Tatyana Keen loved singing with celebrities for President Obama. Gaby Flores cherishes meeting her boyfriend freshman year and having him support her through all of high school. Lastly, Joy Brown's favorite memory is spending her last year as a TC Titan with all of her friends.
Some of these anecdotes are incredible achievements and some of them are just everyday activities that really mean a lot to you all. Although we as a class have had some unforgettable experiences at TC and have a variety of amazing post-secondary plans, that's not what high school is all about.
It's not about what lies behind us and it's not about what lies before us. It's about what lies within us. Without using our past experiences as a means of growth and improvement everything that we have endured amounts to exactly nothing. I know that you all are going to take what you have learned from TC and use it to go so far. Looking out at all of these faces, I see more promise than I've ever witnessed before.
Class of 2014, congratulations, let's go out and make something of that promise. Thank you so much.