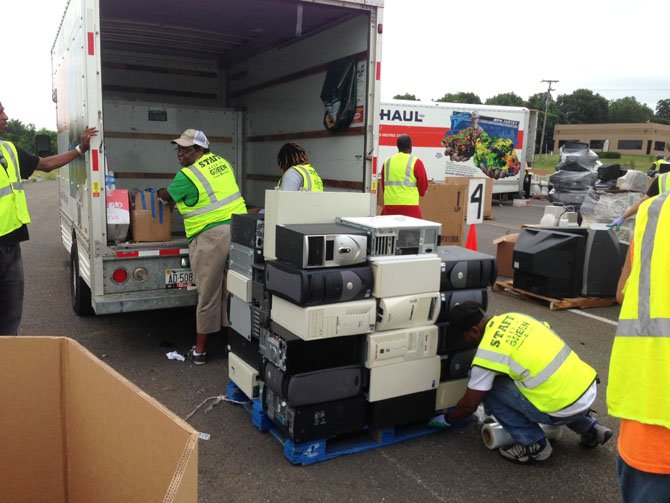 Approximately 20,540 pounds of electronics were collected for recycling at an electronics recycling drive held June 21 at Trinity Presbyterian Church, in Herndon. The event was planned by Herndon High student Zach Knox as part of his Boy Scout Eagle Service Project. "The most challenging part was figuring how to get fliers for the event out," said Knox. Knox is a member of Boy Scout Troop 1577 which meets on Monday evenings at Trinity Presbyterian Church, located on 651 Dranesville Road in Herndon.
"What is interesting is seeing some of the old technology," said Jon Claus, an assistant scoutmaster with Troop 1577 and Eagle Scout project coach for Knox. "We had over a hundred vehicles come by to drop off things," said Claus. "My role was to offer guidance to Zach, he made all the decisions in this project."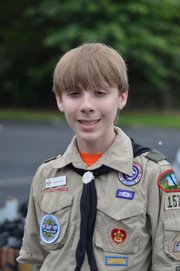 The Eagle Scout Service Project, or more simply the Eagle Scout Project, is an opportunity for a Boy Scout, Varsity Scout or qualified Venturer in the Boy Scouts of America (BSA) to demonstrate leadership of others while performing a project for the benefit of his community. This is the culmination of the Eagle Scout candidate's leadership training, and it requires a significant effort on his part. The project must benefit an organization other than the BSA, but it cannot be performed for an individual or a business, be solely a fundraising project, or be commercial in nature.
Over 30 persons helped volunteer in the event, which took almost a year to plan and prepare for. The electronics including TVs, monitors, radios, computers, phones, digital cameras, copiers, hard drives, and speakers were driven to the Lorton I-95 Recycling and Disposal Center. "It has been everything we hoped for and more," said Troop 1577 scoutmaster and Herndon resident Rich Pierce. "It has gone far above expectations and it was nice to see a lot of neighbors show up." Troop 1577 is a premier scout Troop in the Herndon Reston community, and has 8 to 10 Eagle Scout projects a year.
"I think scouting instills a life long set of values in young men and helps them develop their futures," said Kathleen Bommer, who was volunteering that day. "Scouting is a good family program." Two of her sons were Boy Scouts with Troop 1577, and her son Grant will soon be planning his Eagle Scout project. "I think this was a great project because we are taking unwanted items and having them taken out to be recycled," said Grant Bommer. Fairfax County residents can recycle televisions, computers and peripheral devices and unbroken fluorescent light bulbs and tubes on Electric Sundays. There is no charge for Fairfax County residents to participate in Electric Sunday however proof of residency may be required.