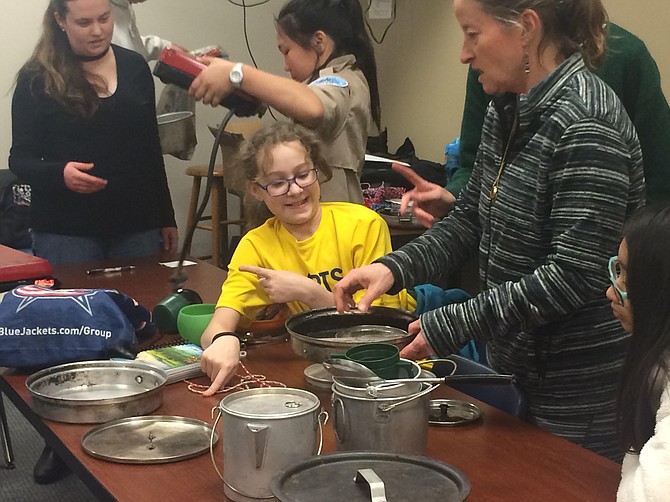 This was anything but your typical Scout meeting. A group gathered around a table, an unmistakable excitement in the air. They were just getting started, and were raring to go. Chatter filled the room they were in about uniforms, supplies, upcoming outings and more. There was an optimism and energy in their conversation that seemed hard to find today.
Oh, and they were girls. This is Troop 7, a Scouts BSA all-girls troop and one of the first in the Powhatan district that serves Chantilly, Great Falls, Herndon, Oakton, and Reston. The official program with Scouts BSA girls' troops started on Feb. 1 — although the Scouts, adult Scouters, and their parents were up and moving long before that. The BSA has been a boys-only Troops and Packs option for the longest time — although BSA Venture Crews and Explorer Posts have allowed girls for decades — so that begs the question; what's the difference now between a Scouts BSA boys' and a Scouts BSA girls' troop? And how does this accomplish anything?
Troop 7 Scoutmaster Steve Conner has served in BSA Scouting for 14 years with a son who earned Eagle a few years ago — he believes that the move by BSA to allow girls to participate in Scouts BSA Troops was nothing but positive. He said, "I wanted to be a part of forging this path forward and give a group of ambitious girls the same opportunities that were afforded to my son and the millions of boys who have had the privilege of being part of BSA." Steve initially thought that a Scouts BSA girls' troop would struggle to gain acceptance in the community — "but to the contrary, my experience to date has been exactly the opposite." According to him, Troop 7 has had an overall positive response from other Scouts and the community at large.
One of Troop 7's Assistant Scoutmasters, Karen Downs, also saw the potential in allowing girls to join Scouts BSA through her son's participation in the program. Besides developing his self-confidence and maturity, she noted that the friends he made saw him through some really difficult times. Over the years of her involvement as a parent and volunteer, she'd wished "that my older daughter could have had similar experiences… Even though it is too late for my daughter, I am excited to support the girls who want to participate in this great program." Despite her son going to college this year, what she saw him learn convinced her that supporting a Scouts BSA girls' troop was the right decision.
These newfound opportunities for girls are making waves in the area, and Troop 7 itself is already 16 Scouts strong — with the bridging over of another Scout from the Cub Scout program, that number will continue to grow. According to Sarah E. — a student from Navy Elementary School and one of these new recruits — observing what her brother had learned in Scouts "intrigued her…it was an opportunity to learn wilderness and life skills." Another Scout, Melissa, was already a Venturer before joining Troop 7 but was attracted to what the previously boys-only program could offer her, and the chance to interact with BSA Scouts of different ages as peers. Despite being a senior at South Lakes HS, she is aiming for the challenge of Eagle Scout. The requirements are the same for boys and girls, but there is a temporary transition rule available to newly joined youth over 16 years old that gives them a time extension to earn their Eagle.
Even with the overwhelming response, Scouts BSA Troop 7 is still open for new Scouts to join — and for those interested, there is an upcoming opportunity to find out for yourself. The troop is hosting a 30-minute welcoming event on Thursday, March 7 at 7 p.m. in Floris United Methodist Church. You can meet the girls who make up Scouts BSA Troop 7 and practice basic Scout BSA skills.
In the time it took you to read this article, Scout BSA Troop 7's girls had unpacked several crates' worth of cooking supplies. Gaby, a student at Franklin Middle School and the troop's Quartermaster, took the lead directing the others in sorting the piles of pots and utensils – a sign of what was in store for the Scouts, and the excitement fueling them. The journey they would undergo on the trail to Eagle would be long and arduous, but it was clear that they were going to make the most of their chance.
More information about Scouts BSA Troop 7 can be found at www.Troop7va.org. To join or find a troop in your neighborhood, please visit https://BeAScout.org.