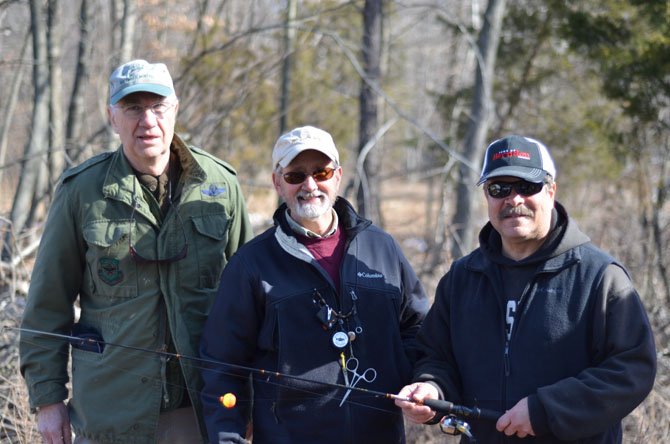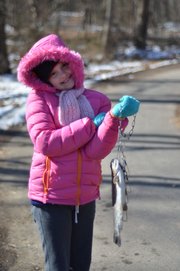 Beginning Saturday at 7 a.m. at Sugarland Run Trail in Herndon, parents and children arrived to participate in the annual fishing derby. The Town of Herndon's Parks and Recreation Department coordinated the event. Other volunteer groups assisting at the event included members from the Town of Herndon Fraternal Order of Police (FOP) Lodge 64 and Trout Unlimited. "This is our fifth time participating in this event," said George Paine, a resident of Reston and secretary of the Northern Virginia Chapter of Trout Unlimited (NVATU).
Members of NVATU helped families clean and prepare the fish after they had been caught. NVATU is a diverse group of residents from the Alexandria, Arlington County, Fairfax County, and Prince William County, who enjoy fishing and associated activities to enhance fishing opportunities. The chapter holds regular meetings the first Thursday evening of every month at the Vienna Firehouse, in Vienna.
"Approximately 100 people registered to participate in the event this year, similar to last year," said John Dudzinsky, forester at the town of Herndon for more than twenty years. The fish, mostly rainbow trout, were brought in by Casta Line Trout Farms of Goshen, Va. The weather was relatively mild, yet there was still some scattered snow from the previous snowfall.
Greg Hayken, a resident of Herndon brought his children Jackson and Gianna to try fishing. "This is the third year we have attended," said Hayken. Reston resident Alan Cartwright and his daughter, Julia Cartwright, caught a rainbow trout. "She has been my fishing buddy for about four years," said Mr. Cartwright. "This is a great event."
Herndon resident Mustafa S. Hassan and his sons Ameen and Zayn also participated in the event. "We love being outdoors, and we thought we would make it a family activity," said Hassan. "I think it is great to have these sort of events in the suburban area and that organizations can make them financially accessible for lots of families."
The event lasted until noon, and volunteers were on hand to explain how to bait, cast and hook fish. Herndon Police officer Henry "Hank" Ruffin was also attending the event. "It is a really good event," said Ruffin. An FOP representative for four years, Ruffin said individuals with a valid Virginia State Fishing License and have a trout stamp can fish at Sugarland Trail. "The fish will be here for awhile," said Ruffin.
More like this story