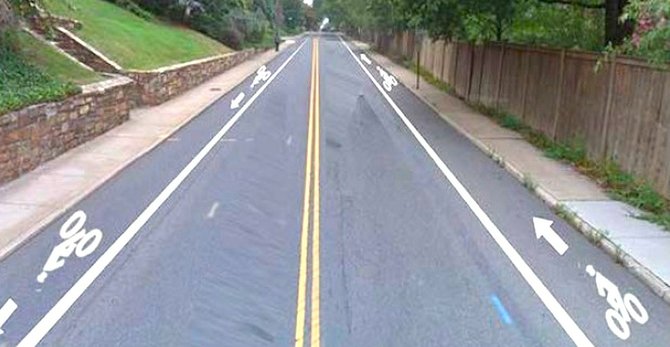 How It Would Work
Parking would be removed on King Street from West Cedar Street to Highland Place in order to install bicycle lanes and associated pedestrian and bicycle improvements. The travel lanes would be narrowed from 11.5 feet to 10.5 feet. A five-foot bike lane would be installed in the westbound direction, and a four-foot bike lane would be installed in the eastbound direction. And a rapid-flashing beacon would be installed in the crosswalk of Upland Place and King Street to improve safety for pedestrians.
Months of bitter accusations and counter-accusations are set to culminate this weekend as members of the Alexandria City Council take up a plan to remove four blocks of parking spaces on King Street to make room for a bike lane in each direction. City officials initially planned to transform the street without conducting a public hearing, but a massive outcry forced city leaders to schedule a hearing before the Traffic and Parking Board, which voted to delay the proposal in a five-to-two vote. The majority of members want to wait until a deal could be struck that would not be so divisive.
"I don't want to wait forever," said board member William Schuyler. "But this will become the law. It will become how we operate for the next 20 years, so a couple of extra months isn't the end of the world if we actually get to a place where there's more consensus and more compromise."
The controversy started in December, when Transportation and Environmental Services director Rich Baier decided that a repaving project on King Street opened the door to create bike lanes on the heavily traveled thoroughfare. In a Dec. 20 letter outlining the decision, Baier explained he came to the conclusion because the city policy requires Complete Streets infrastructure "if safety and convenience of users can be improved within the scope of pavement resurfacing operations." The letter launched a firestorm of support and opposition, a debate that has brought national attention to the city.
"The bicycle lanes create a buffer for pedestrians along the south sidewalk, which currently abuts the travel lane and provides a buffer for pedestrians along the south sidewalk, which currently abuts the travel lane, and provides unobstructed visibility for residents on the north side as they enter and exit their driveways," wrote Baier in the letter. "The bicycle lanes also provide a safe location for cyclists riding up the hill who may be traveling as slowly as five miles an hour."
THE TRAFFIC and Parking Board meeting last month went on for several hours, as dozens of people testified for and against the proposal. When all was said and done, 33 supported the proposal and 21 opposed. That's an indication of what might happen this weekend, as City Council members will take the issue in a forum where the stakes are higher because council members have the final say. Many of the same speakers are planning to appear this weekend to make the same arguments they made last month.
"If you look at surveys that people have done, a majority of people in the D.C. area favor bike lanes," said Jonathan Krall, a member of the city's Bicycle and Pedestrian Advisory Committee, during the board hearing. "But you have a streetscape that's so dangerous that the only people who are willing to bike are the people who are really passionate about it."
Bicycle enthusiasts argued that bike lanes would increase property values and increase safety while providing better options for bicyclists. But neighborhood residents said they were concerned about how they would entertain without availability to street parking. Many of the opponents said they were concerned that they will not be able to have parking spaces for guests for birthday parties and Thanksgiving dinners.
"The notion by bike lane proponents that we and our neighbors are greedy and selfish, that's really not the case," said Brooke Curran, who lives on King Street and opposed the bike lanes. "The parking is used for charitable events, many of which are at our homes and many of which benefit Alexandria charities."
THE DEBATE comes at a time when the city is also considering transforming Royal Street into what city leaders call a "bicycle boulevard." City officials have hired a consultant and are planning to spend about $15,000 to develop the concept, which is expected to be presented to City Council members later this year. Although the Union Street Corridor Study included language about removing some of the four-way stop sings along Royal Street so cyclists would not have to stop, Baier cautioned that idea has yet to receive any formal attention.
"We are not anywhere near that discussion yet," said Baier. "The only thing we are doing right now is cataloguing inventory."
City officials say the purpose of the King Street bike lanes would be to slow vehicle speeds and provide a safer environment for pedestrians, motorists and cyclists. Another goal they say the proposal accomplishes is creating safer routes to nearby schools and the Metro station on King Street. Ultimately, they say, the project is guided by the Complete Streets policy that calls for a different kind of infrastructure than the 27 parking spaces that are there now.
"This has been a challenging and complicated process, and I am empathetic to the inconvenience that the loss of parking will create for residents who currently have street parking available in front of their homes," said Baier. "I am also empathetic to the pedestrians and bicyclists who use this corridor on a daily basis."