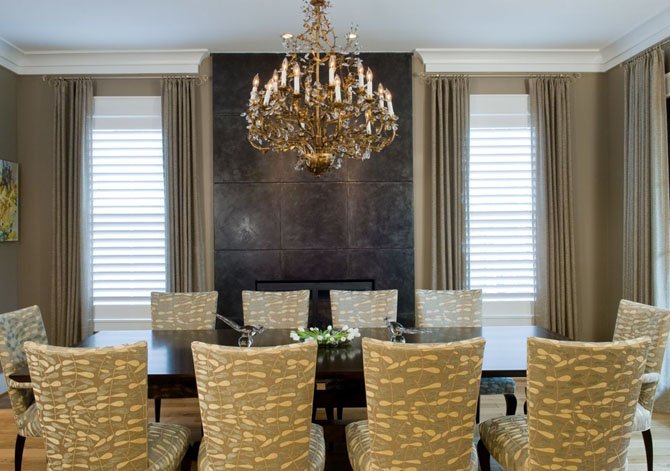 When an active family of five approached Potomac interior designer Sharon Kleinman and asked her to give their home a makeover, they wanted a whimsical yet polished space.
"The house itself is a typical Bethesda arts and crafts house," said Kleinman. "It's very roomy, boasting four levels of living space which gets good use from this energetic family with three active children."
The family wanted to move beyond traditional design elements. "The clients wanted to think a bit outside of the box," Kleinman said. "They had no need for formal living spaces, so we took the living room and turned it into a music room."
Kleinman created a design that had a family-friendly feel and incorporated elements of both whimsy and elegance. "We gave the music rooms a bit of drama with the chocolate [colors in fabrics], a bit of glamour was added with the mohair rug, a family favorite for all, including the dog."
Two chairs by Baker Furniture are positioned on either side of the fireplace in the music room. An ottoman, also by Baker, sits between the chairs.
"Rich, fabrics on the chairs flanking the fireplace and in the window treatments add to the luxurious and warm feeling of the room," said Kleinman.
Kleinman also created a casual, but chic design for the dining room. "The clean lines of the dining room furnishings evoke a less formal feel," she said. "The durable dining chair fabric in creams and grays is far from formal, yet it sets a casually elegant tone for the room."
Large, matte-finished tiles surround the fireplace. "[They] are upscale but, informal," said Kleinman. "The chandelier adds a bit of sparkle. The draperies allow in lots of light, yet add to the finished look. The dining table was accessorized with crystal birds inherited from a grandparent."