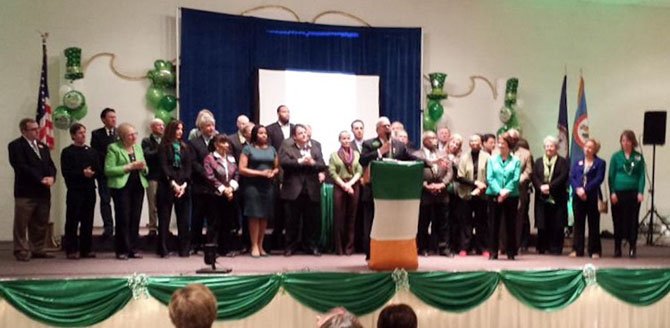 Pledging to continue to fight on Capitol Hill for the values and rights of Northern Virginians, Rep. Gerry Connolly (D-11) kicked off his campaign for a fourth term in the U.S. House of Representatives Monday night before a packed house of supporters at his 20th annual St. Patrick's Day Fete.
More than 1,000 supporters from Fairfax, Prince William, and across Northern Virginia defied the aftermath of the region's latest snowfall, which dropped between 5 and 10 inches across Fairfax, to attend Northern Virginia's largest annual Democratic gathering.
Introduced by Fairfax County Board of Supervisors Chairman Sharon Bulova, Connolly praised the assembled Democrats, elected officials, and candidates for "transforming the political landscape of Virginia." Connolly reaffirmed his commitment to a woman's right to choose, access to health care, and equal protection under the law for all Americans. He also reiterated his support for federal workers and "ensuring that the right to vote is universal, early, easy, and for everyone."
Many attendees cast their votes in a straw poll measuring support among the 11 Democrats seeking the Democratic nomination to succeed retiring Rep. Jim Moran as Virginia's 8th District congressman. Don Beyer topped the field, followed by Charniele Herring, Lavern Chatman, and Adam Ebbin.
Beyer, the former lieutenant governor and Ambassador to Switzerland, garnered 34 percent of the vote from the assembled Democrats for the 8th Congressional District nomination followed by Herring, a Virginia delegate and former state Democratic Party chair with 13 percent, Chatman, the former NoVA Urban League president with 12 percent, and Ebbin, a state senator, with 11 percent..
Alexandria Mayor Bill Euille and Virginia Delegates Patrick Hope and Alfonso Lopez each received 7 percent of the votes cast, while talk show host and lawyer Mark Levine got 6 percent. Candidates Satish Korpe, Bruce Shuttleworth, Nancy Najarian, and Derek Hyra each received 1 percent or less.
Connolly was joined on stage by Virginia Attorney General Mark Herring, Fairfax County supervisors, state senators and delegates, and many other elected officials and candidates from across Northern Virginia,
Attendees at the annual event dined on a full spread of traditional Irish fare and enjoyed Irish music at the annual event which began two decades ago as a small gathering in Connolly's backyard when he first ran for a seat on the Fairfax County Board of Supervisors. The event has grown to be the largest annual political event in Northern Virginia. An army of dedicated community activists, assisted by the Fairfax County Fire Fighters and others, come together year after year to help plan and stage the event on what Connolly calls his "holiest day of the year."