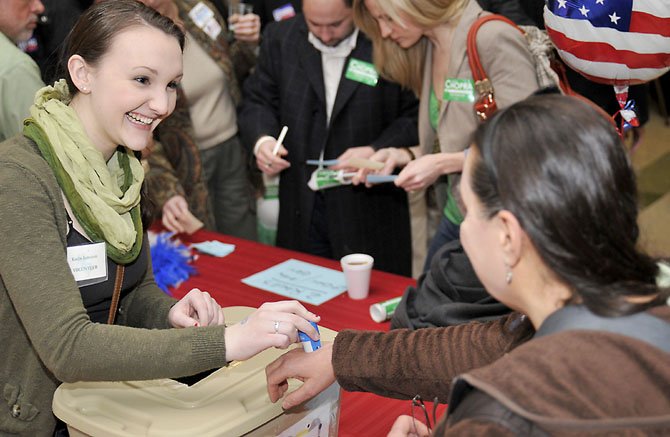 Photo Gallery
St. Patrick's Day With Connolly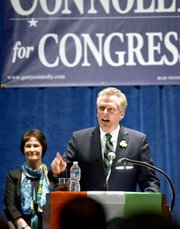 Click Photo for Flash
A record-breaking crowd of more than 1,400 packed the shamrock-festooned Kena Temple ballroom Sunday night for Congressman Gerry Connolly's 19th Annual St. Patrick's Day Fete.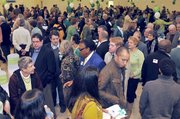 As dozens of elected officials and Democratic candidates lined the stage behind him, Connolly announced the winners of the straw polls for Virginia's Democratic candidates for lieutenant governor and attorney general.
In the contest for lieutenant governor, Aneesh Chopra garnered 70 percent of the votes, while Senator Ralph Northam received 30 percent. Results were closer in the attorney general's contest with Senator Mark Herring receiving 52 percent to Justin Fairfax's 48 percent.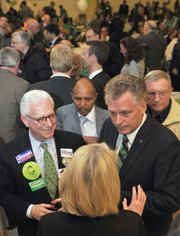 Democratic gubernatorial candidate Terry McAuliffe opened the gathering. Fairfax County Board of Supervisors Chairman Sharon Bulova handled the master of ceremonies duties and the introduction of the lengthy list of elected officials and candidates who joined Connolly for the annual celebration.
Connolly began hosting the event when he was first elected to the Fairfax County Board of Supervisors in 1995 and has continued the tradition ever since through his 10 elections. The annual St. Patrick's Day event started as a small gathering in Connolly's Fairfax home. Soon tents had to be erected behind the Connolly house to accommodate larger crowds, but it outgrew that venue too. It has been held at the Kena function hall in the heart of Connolly's district ever since.