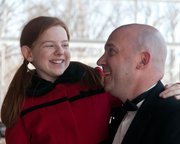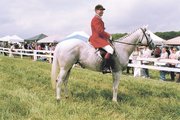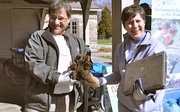 Friday-Sunday, March 28, 29 and 30
Potomac Theatre Company's Swan Song: Annie
The Potomac Theatre Company's 25th Silver Anniversary Season will also be its last.
"We're going to have to close our doors," said board member Carole Dell. "It's really quite sad."
The local theatre company will raise and lower its curtain for its final performances with its production of "Annie."
"It's bittersweet because some of us have been working on this the entire time," said Elie Pisarra Cain. "We're all broken hearted, but we have to look at it realistically. …It's been a wonderful run."
Potomac Theatre Company's final production takes place this Friday and Saturday at 7:30 p.m. and on Sunday at 2:30 p.m. in the Blair Family Center for the Arts at the Bullis School, 10601 Falls Road. Call 301-299-8571. Visit www.potomactheatreco.org for more.
Saturday, April 5
Potomac Watershed Cleanup
The Potomac Watershed Cleanup is sponsored annually by the Alice Ferguson Foundation. This year's cleanup event is scheduled for Saturday, April 5, 9 a.m.-noon. Last year, 14,586 volunteers cleared 624,000 pounds of trash from the river and riverbanks, including 193,800 beverage containers; 314 tires; 27,400 cigarette butts; and 27,200 plastic bags. Volunteers helped at 633 sites, many here in Potomac. Visit www.fergusonfoundation.org.
Saturday, April 26
Canal Pride at Great Falls
The Annual C&O Canal Pride Days, a joint effort between the park and C&O Canal Trust, brings hundreds of volunteers into the park to conduct maintenance projects. Work at C&O Canal National Historical Park at Great Falls (Md.) and other sites along the Potomac River and C&O Canal towpath from April to June.
Space is limited at events, so sign up early to ensure your spot. Groups, families, individuals, and businesses are all welcome and encouraged to participate. Call the Canal Trust at 301-714-2233, www.canaltrust.org, or visit the park website at www.nps.gov/choh.
Friday, April 11-Monday, April 14
Bethesda Literary Festival
The Bethesda Literary Festival has been held annually in April. Features poets, authors, journalists, novelists, poetry slams, essay contests and youth book parties. Literary events take place in downtown Bethesda's bookstores, galleries and retail businesses, as well as the library and elementary school. Visit www.bethesda.org/specialevents/litfest/litfest.htm
Sunday, April 27
Pike's Peek 10K
Pike's Peek 10K runs along Rockville Pike from Shady Grove Metro to White Flint Mall on April 27, 2014. The road race is one of Montgomery County Road Runners Club's premiere racing events. Celebrate at the finish area with food, family activities, music and exhibits. Visit the Montgomery County Road Runners Club website at www.mcrcc.org or pikespeek10k.com.
Friday, May 2-Sunday, May 4
Azalea Festival & Mark's Run
The 61st annual Landon Azalea Garden Festival is scheduled for May 2-4, 2014 from 10 a.m.-5 p.m. in the Perkins Garden on the Landon campus, 6101 Wilson Lane in Bethesda. The annual festival dates back to the mid-1950s when Landon's founders, Paul and Mary Lee Banfield opened the newly acquired azalea garden to the public. Call 301-320-3200 or visit www.landon.net.
Mark's Run 5k and one-mile fun run is held each year in memory of Landon alumnus Mark Vaughn Ferris '94, who lost his battle with juvenile diabetes on Dec. 13, 1999. In May 2013, hundreds of runners participated in the annual Mark's Run, raising more than $50,000 for the Mark Ferris Scholarship Fund at Landon, and giving, in partnership with the Stewart Trust, $75,000 to the Joslin Diabetes Center. This year's race is scheduled for May 4 at 8 a.m.
May Farmers Market Opens
The Potomac Village Farmers Market sprouts from May through October (and sometimes into November), Thursdays, 2-6:30 p.m. at Potomac United Methodist Church, 9908 South Glen Road at corner of Falls Road and Democracy Boulevard. Call 301-792-6054.
Saturday, May 17
Strawberry Festival
Get the best strawberry shortcake in town. The Strawberry Festival at Potomac United Methodist Church, 10300 Falls Road in Potomac, is traditionally held the weekend before Memorial Day. Berries, a silent auction, bake sale, rummage sale, craft fair, dollar items and games and activities for children. The event is sponsored by the Potomac United Methodist women and draws about 1,000 members of the community. The proceeds support the church's mission work. Call the church at 301-299-9383 or visit www.potomac-umc.org.
Sunday, May 18
Potomac Hunt Races
The Potomac Hunt Races is an annual tradition, celebrating the sport of steeplechase racing and benefiting local charities. Race day festivities include steeplechase racing, thoroughbreds and festival tailgate parties, a car show, mounted police demonstrations, pony rides, moon bounce and more. Visit www.potomachuntraces.com. The event takes place on the fields of the Kiplinger estate, 14401B Partnership Road, in Poolesville. Gates open this year at 11 a.m. and the activities start at noon.
And More:
Spring Festival at the Greek Orthodox Church of St. George, Friday-Sunday, May 2-4, 2014, 7701 Bradley Blvd., Bethesda. The annual festival includes traditional Greek cuisine, outdoor/indoor dining, Greek dancing, church tours and Greek pastries. Call 301-469-7990 or visit www.stgeorge.org.

Mule-Drawn Canal Boat Rides, Great Falls Tavern, May –October. Call the C&O Canal National Historical Park at Great Falls visitor center, 301-767-3714 or visit www.nps.gov

Potomac Horse Center Annual Spring Open House, visit www.PotomacHorse.com for more.

Run Aware 5K, Cabin John Regional Park, Westlake Drive, Sunday, May 11, organized by Montgomery County Road Runners Club. Race through woods, trails, and, if lucky, mud. Along with the 5K (Cross Country Series) race, there will be a 1K (Junior Participation Series) race. Visit www.mcrrc.org.

Monday, June 23-Sunday, June 29, Tiger Woods Foundation tournament at Congressional. Quicken Loans is replacing AT&T as the title sponsor of the PGA's annual golf tournament at Congressional Country Club. Visit www.tigerwoodsfoundation.org for more.