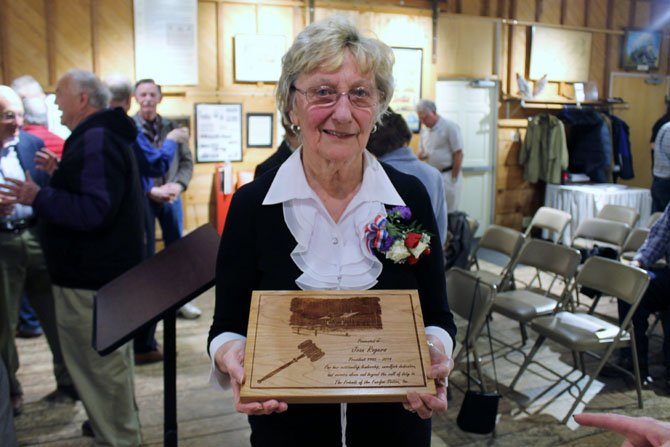 Described by members as driven, passionate and a pleasure to work with, Joan Rogers, the outgoing president of the Friends of Fairfax Station, was honored for her contributions at the group's annual meeting on March 24.
"As president, she's been a driving force for our museum," said Jack Migliaccio, vice-president of the Friends of Fairfax Station. "Her enthusiasm and dedication has attracted many volunteers."
Rogers has served as president of the Friends of Fairfax Station for 19 years. According to group members, she was critical in the process of moving the museum to its current location on Fairfax Station road.
"She personally solved innumerable minor and major problems," Migliaccio said.
Members of the Friends of Fairfax Station shared their praise and stories with a tearful Rogers.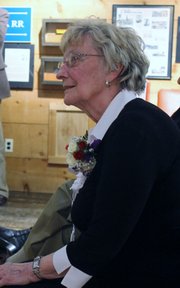 "You've been part of my life, for more or less, my entire life," said Monty Smith, who has been participating in the train shows and has had his birthday parties at the museum.
Rogers has contributed to the community beyond her presidency of the Friends of Fairfax Station. She has been involved with the Dominion Valley Pony Club, Girl Scouts, PTA, St. Mary's Church and the Clifton Community Woman's Club.
Rogers was responsible for the success of many events at the museum, including Annual Holiday Train Show, Sunday afternoon train displays, Quarterly Forums, and Tour and Civil War displays, as well as parties that were held at the museum.
"We had every kind of party here, and we always loved it," Rogers said.
Joan Rogers and her husband John have been involved with the museum since the late 1970s.
"If we had more citizens like you throughout this county, think of all the amazing things that could be documented and kept and saved. In terms of the women's community, the Clifton Community Women's Club and the history commission, you have touched the lives of many, many people and many birthday-party goers," said Lynne Garvey-Hodge of the Fairfax County History Commission.
The Fairfax Station Railroad Museum is run completely by volunteers who dedicate their time to operating the museum, creating displays and holding events.
"It's been a pleasure working with you," said Clem Clement, a board member who was prompted by Joan to start the annual train shows at the museum.
Rogers says she will be sure to visit the museum even though she is stepping down as president.