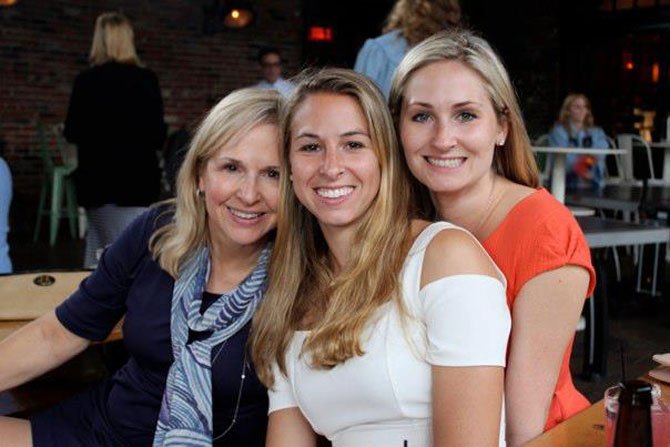 Allison Goodhart has a vivid childhood memory: pulling a wagon filled with pumpkins and her younger sister around her family's Del Ray neighborhood in Alexandria, helping to promote her parents' real estate business. Today Allison Goodhart works alongside her mother as part of Old Town Alexandria-based Goodhart Group of McEnearney Associates Inc., Realtors.
While mother-daughter business relationships can be difficult to navigate, especially in a competitive business like real estate, several local mother-daughter teams have figured out how to navigate the tricky waters. In light of Mother's Day this Sunday, they share their insights about what makes their relationships work, humorous stories about their roads to success and advice for others.
"During the fall, I would go up to the door and offer pumpkins with one of my parents' cards while my parents stood across the street and watched," said Allison Goodhart, who is now 28 and has held her Realtor's license since the age of 19.
After graduating from Dickinson College, Allison Goodhart went to work for her parents because they needed assistance. "This wasn't planned," said Sue Goodhart. "My husband and I had been in been in business for 22 years. We just really needed help the year that Allison graduated from college."
Allison Goodhart started at the bottom of her parents' business, however. "One good thing is that I started in an admin position," she said. "Having worked my way up gives me more credibility with the clients.
The Goodhart family, which also includes another daughter Amanda, 24, describes themselves as close-knit, one of the keys to their successful business relationship. "We did everything with our kids," said Sue Goodhart. "We just really enjoyed our children and wanted to be with them. We're just a very close family."
They do, however, face challenges in business. "One thing that parents need to do is establish that there is a partnership. She is in on all of our decisions," Sue Goodhart said. "I have to remember that I can't make comments about the dress she's wearing that a boss or coworker wouldn't make. I can't say, 'Did you brush your hair this morning?'"
"We have different styles," said Allison Goodhart. "We're often blunt with each other in a way that if it wasn't my mom I probably wouldn't be."
Sue Goodhart and her husband Marty decided that they wanted to grow their business and thought that Allison was the ideal choice. "I can say that Allison is phenomenal. She's got a great sense of how to run a business. She's very organized and on top of things," said Sue Goodhart. "From my point of view, the hardest part is stepping back and allowing my daughter to shine and not dominate the business."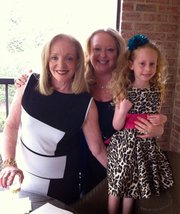 MOTHERHOOD WAS actually one of the driving forces behind the formation of the Schuman real estate team. Marsha Schuman and her daughter Betsy Schuman Dodek began working as a real estate team in 1995. Then, four and half years later, Dodek decided to pursue a career in commercial real estate, which would allow her to meld both her sales experience and law degree.
Ten years later, Dodek decided to accept an invitation from her mother, who was now working for Washington Fine Properties, to join her in the residential real estate business.
"After having a child, I wanted to figure out how to be a great mom and take my career to the next level at the same time," said Dodek whose daughter was 2 when she and Schuman formed Washington Fine Properties' Schuman Team, which is based in Potomac, Md. "I wasn't sure that commercial real estate would have afforded me the kind of flexibility that residential real estate does. My mother gave me an opportunity to be the kind of mother she was to me: a full-time mother while also being a career woman. I don't have to miss any of my daughter's milestones.
"I get to hear about all the daily nuances that take place with my daughter and her husband and my granddaughter," said Schuman. "It's wonderful to be able to see my daughter spend time with her daughter the way I did with my kids. It makes me so proud."
Schuman also credits her daughter for modernizing her business. "Betsy has taken me kicking and screaming into the age of technology. Twitter, Facebook and Pinterest have now become part of my vocabulary."
Schuman and Dodek keep both their business and personal relationships healthy with mutual respect. "I try not to pull rank," said Schuman. "We look at each other as professionals. Betsy calls me 'Marsha' rather than Mom. It makes our relationship at work much more professional."
"We try to start each day fresh," added Dodek. "There are days that don't work as smoothly as the next, but we have made it a point to focus on each new day and each new task. We are very busy, so we just don't have time to not get along."
Their relationship works so well that they're often mistaken for sisters, much to the duo's amusement. "Every once in a while when we are meeting with new clients, they think we are sisters, not mother and daughter, and Marsha glows," said Dodek. "And, my 5-and-a-half-year-old daughter loves to say she is also a member of the Schuman Team."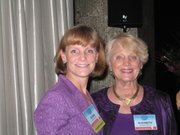 BETSY AND SUSAN LEAVITT of the McEnearney Associates Leavitt Team in Old Town Alexandria have been a real estate team for 14 years. Their partnership was formed due to Susan Leavitt's unhappiness at work. She had received a master's degree in international relations at Johns Hopkins School of Advanced International Studies and spent 14 years working on Wall Street, but something was missing.
"I thought about switching my career to the public sector. Well, after realizing that the bureaucracy was more than I wanted to deal with, my mom suggested real estate," said Susan Leavitt. "She had been an agent for over 20 years at this point and was one of McEnearney Associates, Inc.'s first agents."
The Leavitts said it takes work to keep their business relationship from damaging their personal relationship. "Just like a marriage, remember that one transaction is not worth jeopardizing the relationship," said Betsy Leavitt, explaining that in representing clients' best interests, they're often "on different sides of the table, which can get heated, but we seem to be able to resolve those … cases."
They also try to capitalize on each other's strengths. "Mine is energy," said Susan Leavitt. "I take buyers around in Maryland, D.C. and Virginia. Betsy knows the market inside out and is familiar with all the builders, the neighborhoods, the histories of the area, so her expertise and knowledge is invaluable."
Susan Leavitt says the greatest lesson she's learned during their 14-year partnership is the complexity of the real estate business. "It is very complicated to do correctly," she said. "You must act as a consultant for the client, outlining choices and the probability of certain outcomes of making those choices. Our job is to educate clients so that they feel comfortable and in control of their real estate transition, whether it is buying or selling."