At a May 16 free workshop, the U.S. National Park Service will train volunteers in how to control invasive plants and protect the George Washington Memorial Parkway's landscapes, biodiversity, native plants and local property values.
The workshop will be held 9:30 a.m. to 12:30 p.m., at the Mount Vernon Government Center, 2511 Parkers Lane, Alexandria. Bring a lunch for 12:30 p.m. to 1:30 p.m. Field training will take place from 1:30 to 3 p.m. at Dyke Marsh Wildlife Preserve.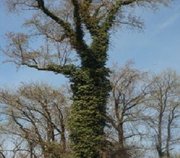 Wear sturdy shoes, bring water and dress for the weather. Tools will be provided. The workshop is free, but sign-ups are appreciated. Contact Erik Oberg at 703-289-2542 or email erik_oberg@nps.gov.
The event is cosponsored by the National Park Service (www.nps.gov/gwmp) and the Friends of Dyke Marsh (www.fodm.org).
The National Park Service manages the parkway, but it is overrun with invasive plants like English ivy, porcelain berry and bush honeysuckle. Invasive plants pull down native trees and outcompete native plants, reduce shade, diminish wildlife habitat and obscure views.