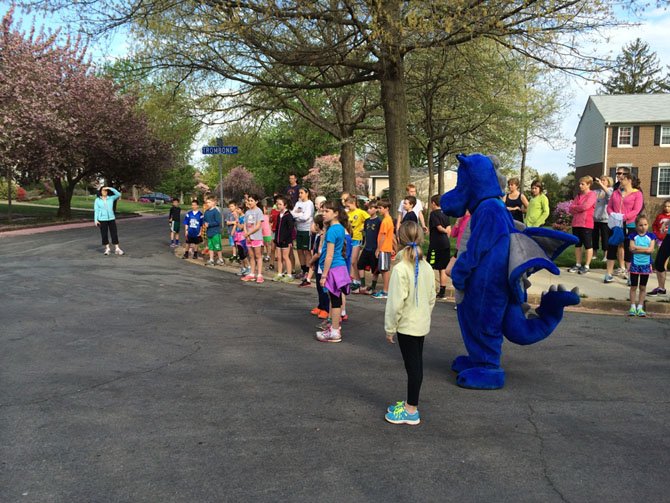 Inspired by the gorgeous day, and by the camaraderie of family and friends, participants in the 9th Annual Colvin Run Elementary School Fun Run, a Family Event for Charity, ran and walked the equivalent of 720 miles in a one hour period last Saturday morning.
Each Fun Run participant collected pledges or flat donations for the charity of their choice. Organizations benefiting included those that support the environment, animal welfare, medical research, treatment of disease, children and families in need, affordable housing, hospice, and more.
In addition to the focus on charitable giving, the Fun Run offers families an opportunity to come together for a morning of physical fitness in a fun, relaxed, no-pressure environment. Participants walk or run as many loops of the half mile course as they can in the time allotted. This is the ninth consecutive year of the event, and the ninth year that Shouse Village, resplendent with late blooming cherry trees, has played host to the Fun Run.
Said Colvin Run ES school principal Ken Junge, as the crowd of eager children in the front of the pack raced past the start line, "It's heartwarming to see so many families out on this beautiful day, showing their compassion for others in such a tremendous way. The money raised this morning will help dozens of charities around the country and right here in our own community."
The Colvin Fun Run is free to participants. It is organized and hosted entirely by volunteers from, and members of, the Colvin Run PTO, as part of Colvin Run's award-winning Character Education program.