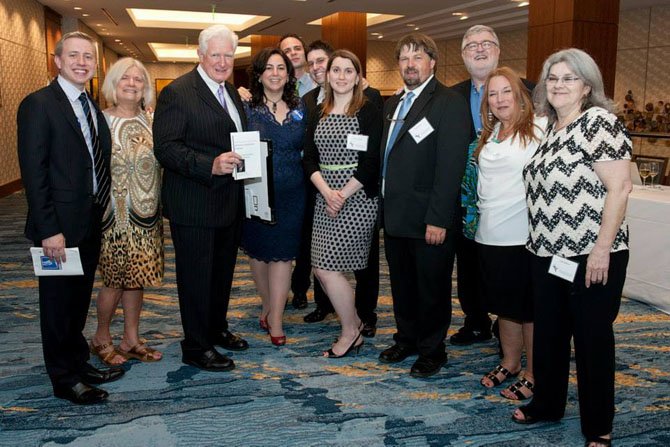 During his first run for Congress, then-Mayor Jim Moran assembled a campaign team that was hungry to oust incumbent Republican Stan Parris. Mame Reiley ran the operation, which included a young communications consultant named Joe Trippi. As the race headed toward Election Day, Reiley and Trippi became concerned that Moran's campaign signs kept disappearing from Eisenhower Avenue. So they set up a sting operation with a video camera to catch the culprit, who turned out to be Jim Moran.
"I don't like them," Moran said of the signs when confronted by his campaign team. "They are too self-serving."
Moran never got around to liking the blue-and-white signs that have dominated the landscape of the 8th Congressional District over the last two decades. But voters have overwhelmingly returned him to office again and again with some of the widest margins imaginable. The seeds of that reputation were sown in that 1990 campaign for Congress, when a young mayor was challenging a longtime congressman as an out-of-touch politician who had lost touch.
"When was the last time you saw Stan Parris?" asked Moran at one debate when Republican Tom Davis was serving as a proxy. "I'll be back next year and the year after that and whenever you need me."
SINCE 1990, Moran has crisscrossed the 8th congressional district in a never-ending flurry of rubber-chicken dinners, public hearings and campaign fundraisers. In that time, he supported the construction of a new Woodrow Wilson Bridge, closed the Lorton Prison, fought against efforts to name National Airport after Ronald Reagan, opposed the war in Iraq and advocated for the rights of animals who had no voice to advocate for themselves. Now, after 24 years in office, Moran is stepping down at the top of his game as eight Democrats compete for a shot to replace him in the House of Representatives. Last weekend, the Alexandria Democratic Committee celebrated his years in office during its annual Jefferson-Jackson Dinner
"I knew I was in the right place when I turned the corner and five candidates tried to shake my hand," said Democratic U.S. Sen. Mark Warner. "But that shows what Moran's legacy is all about — the 8th District is solidly blue."
Part of that is by design. Former Congressman Davis recounted one redistricting when he and Moran swapped Reston and Springfield, allowing each congressman to rest a little easier on Election Day. But even the most uneven odds did not keep Republicans away over the years. Former Republican City Councilman Connie Ring was one of the loyal opposition invited to speak at the Democratic dinner last weekend, recounting his 1988 campaign against Mayor Moran.
"I honestly don't know what I would have done if I had been elected mayor," Ring said with a chuckle.
THE EVENING featured an endless parade of stories about the fiery congressman, whose background as a boxer was never all that far removed from his political persona. Speakers recalled the time he got into a fistfight off the House floor with Rep. Duke Cunningham (R-Calif), and the time U.S. Rep. Don Young (R-Alaska) made an obscene hand gesture toward Moran that was captured on C-SPAN. And then there was the time Moran's introduction of a keynote speaker at a Jefferson-Jackson Dinner went on for 45 minutes.
"I think Jim spoke about everything but mad cow disease," said state Sen. Dick Saslaw (D-35). "Maybe he spoke about that too. I'm not sure."
Speakers recalled Moran's sporadic love life and his penchant for keeping food stashed in drawers. Councilwoman Del Pepper recalled on visit to West Virginia, where Moran accidentally swallowed a wad of chewing tobacco and threw up in public. Former Councilman David Speck recalled losing to Moran in a race for City Council back in 1979, a race that ended up launching the congressman's political career. Former chief of staff Paul Reagan, who now works for Democratic Gov. Terry McAuliffe, recalled how Moran was one of 32 members who voted against Don't Ask Don't Tell.
"It's helpful to be Irish in Congress," observed U.S. Rep. Gerry Connolly (D-11), "because you have a sense of humor and you don't mind a good fight."