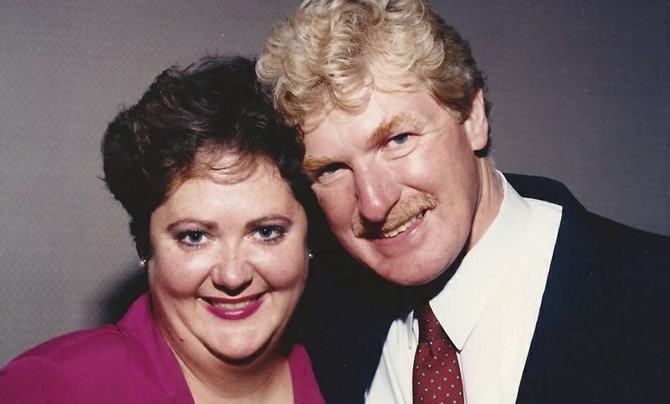 When Mame Reiley decided a young guy by the name of Jim Moran could knock off an incumbent congressman, people thought she was crazy. U.S. Rep. Stanford Parris (R-8) had been in Congress more than a decade, and he had the kind of financial support that the mayor of Alexandria could only hope to assemble. But Reiley knew it could be done, and she put together a dream team to make it happen.
"Like everybody else, I thought she was crazy," said Susan Kellom, former chairwoman of the Alexandria Democratic Committee. "We thought he would lose and then he would be branded a loser and it would ruin his chances to do it again when he has a more solid district in 1992 after redistricting. But Mame said it could be done."
More often than not, Reiley has political instincts that were right. And even when they weren't, she went after her goals with such force that people knew to join forces or get out of the way. She advised former governors Mark Warner and Tim Kaine, served on the Democratic National Committee, led its Women's Caucus in 2003 and was a superdelegate pledged to Hillary Clinton's presidential campaign in 2008. She also served a decade on the Metropolitan Airports Authority. Reiley died this week. She was 61.
"I loved Mame," Moran said in a written statement. "She was an indomitable force of personality and determination, always loyal, always committed to the principles of fairness and compassion."
MARY ANNE "MAME" REILEY was born on Christmas Eve in Newport News. She grew up in Mount Vernon and attended St. Mary's Academy in Old Town Alexandria. She got her start in politics in the third grade, when she encouraged her classmates to tell their parents to vote for John Kennedy. The nuns wrote on her report card that her grades would be better if she spent as much time studying as she spent on politics.
"She tried to talk me into running for lieutenant governor several times," said state Sen. Toddy Puller (D-36). "She could be fiercely loyal to those who were with her, and you didn't want to cross her because she would remember."
That was one thing that everybody — political friends and foes — knew about Mame Reiley. You crossed her at your own peril. If you fell on her bad side, she would find a way to make things difficult for you. Maybe it was her Irish Catholic background. Or maybe it was just calculated sense of political gamesmanship. Whatever was behind that sense of loyalty, it seemed to many to be like a force of nature.
"If you really rubbed Mame the wrong way, she would forget your name," said Ellen Qualls, who met Reiley when they worked on Warner inauguration in 2002. "She would assign you a new name that would be a slight deviation your actual name, and when people would correct her she would say, 'Oh whatever.'"
AFTER MAKING A NAME for herself in that legendary 1990 race, Reiley became Moran's chief of staff and launched a storied political career that spanned several generations of Virginia politics. Sometimes she was on the winning team, like when she helped Mark Warner and Tim Kaine waltz into the Governor's Mansion. Other times were not as successful, such as the time she worked on former Gov. Doug Wilder's failed presidential bid and the unsuccessful gubernatorial primary of Del. Brian Moran (D-45), the congressman's younger brother.
"She always had my back," said Jim Moran. "I'll miss her dearly."
Despite battling cancer, Reiley was able to attend the Alexandria Democratic Committee's tribute to the congressman last month. The event featured speeches from many of the veterans of the 1990 campaign who have gone on to have their own storied careers over the years, including communications consultant Joe Trippi.
Speaking to the crowd from her wheelchair, she told a story about how the campaign became concerned about yard signs that were missing. So she set up a camera to catch the culprit. Turns out it was Moran himself.
"She will be widely missed," said Democratic Party of Virginia Chairman Dwight Jones. "But her legacy of integrity, hard-work, and tenacity will never be forgotten."
She is survived by three siblings, Rex Reiley, Elizabeth Reiley and Barney Reiley. Services will be Tuesday, June 10 at 11 a.m. at Good Shepherd Catholic Church in Alexandria, followed immediately by reception at adjacent Creedon Hall.