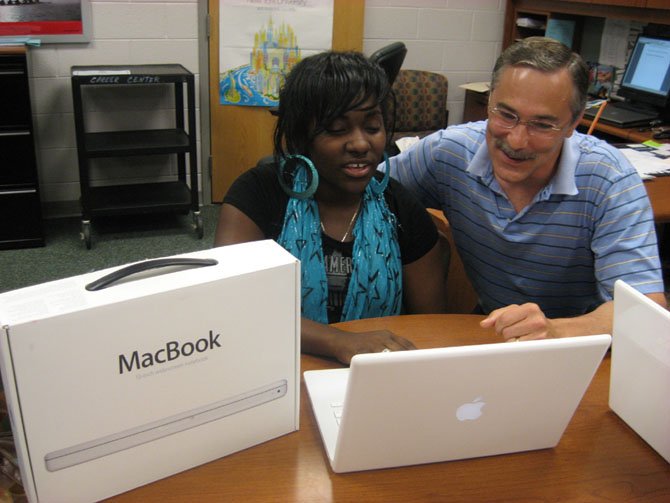 Sahfkat Ali, a South Lakes High School alum, was among the first class that received a laptop through a new school scholarship in 2006.
After completing his junior year at George Mason University in 2010, he helped to hand out 10 laptops to students who needed the help just as much as he did.
The SLHS program has given more than 50 laptops to students in need before they head to college since the scholarship started. However, the school has none to offer so far this year.
"The [Parent-Teacher Student Association] has been a huge supporter," said Career Center specialist Karen Burke. "Last year, we wouldn't have had laptops if it weren't for them. It's been a slow start getting it running again this year."
However, there are students pursuing the scholarship even though a laptop has not been secured this year. During an interview at the school, two students stopped by the Career Center to ask when they can turn in the paperwork.
"Since 2006, Laptops for Success has given computers to 59 students. In recent years the applications have outnumbered the funded laptops by three to one," PTSA member Elizabeth Vandenburg wrote in a press release.
The program is geared towards students from lower-income families, but students who come from wealthier families may have a chance if they have special circumstances like high medical bills or lots of siblings who are in college. Students also have to have a GPA of 2.5 or better and be headed to a two or four year school.
The previous career center specialist, Marie Assir, started the program when she realized that most scholarships go directly to colleges to cover tuition rather than books or other tangible things necessary for the student to be successful in their classes.
"Some engineering and architecture programs actually require you to have a laptop to certain standards," said Burke.
The school buys pricier Mac Notebooks, because they tend to last longer than the alternatives. The cost is roughly $1,000, and includes sleeve to protect the student's new computer.
"We want it to last through all of college and possibly grad school," she said.
The laptops are usually given out on Senior Awards night, which is an exciting and emotional night for many of the students and teachers.
"The best reward is to see the look on their face and just the relief that they will be equipped for school and not have it be a financial burden for their parents," said Burke.
She hopes to raise enough funds before the end of the year to purchase at least one computer.
The high school's PTSA has set up an online donation button on their website at http://southlakesPTSA.org/ for anyone who wishes to send money for the cause. Burke asks that donations be made by the end of the month.
"We'll take anything we can get - even just one - to help someone get their start," said Burke.