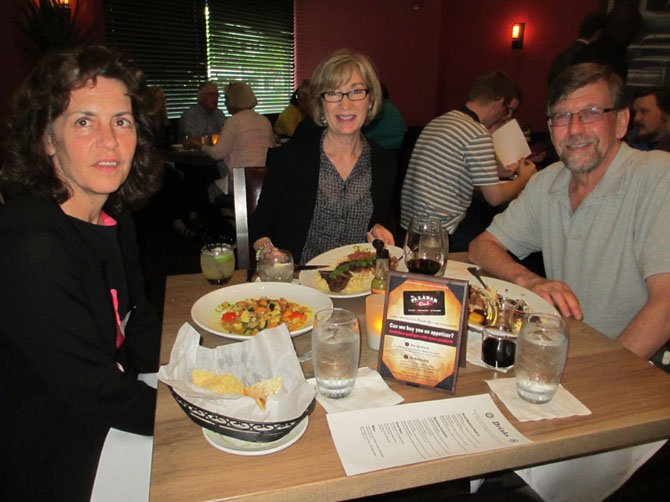 Mix innovative Latin "comfort" food with a twist, a rum bar with more than 60 rums from throughout the Caribbean and South America, gracious staff, and a mission to be a friend to the community, and you have Vienna's newest good neighbor, Paladar Latin Kitchen and Rum Bar. On May 8, Paladar hosted a benefit dinner on behalf of Food for Others, donating the proceeds to the Northern Virginia-area charity. It opened its doors to an enthusiastic public the following evening.
"I came to this community to be part of it," said General Manager David Earp whose career led him to Paris, O'ahu and on to Tysons. "My mantra is to be part of the community first before marketing ourselves. All our restaurants are committed to the community; we're involved. We reach out to support the people who support us. We're about good food and community."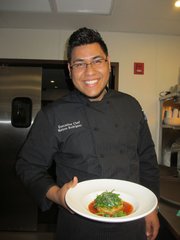 PALADAR – the one at Tysons is the fifth Paladar opened – focuses on chef-driven Latin "comfort food," said Earp. Everythig is made from scratch. "We're inspired by the classical dishes of Latin America but we do not 'do' Latin dishes exactly as created. We put our own signature on them. And we take that focus to our bar."
"Our menu reflects the Latin America mosaic, drawing from the Caribbean, Central America and South America."
Rum-glazed Cuban pork, a signature Paladar dish, is described as pulled pork in a sweet rum glaze, accompanied by coconut-mango rice and black beans. It's priced at $16.95.
Avocados are smashed upon ordering guacamole and the guacamole is served with house made chips of plantain, yucca, malanga and tortilla. There's three types of guacamole: traditional, spicy, and the chef's inspiration. Family-style entrees serve eight.
Paladar stocks over 60 rums, from light to spiced to aged and super-aged, including Zacapa 23, one of the world's greatest rums, aged for 23 years. A customer can order rum straight per glass or in flights. Rum flights [three one-ounce pours] are priced by attributes. Spiced rum flights are $14.95; spectrum – from white to gold to aged – flights are $15.95; aged rum flights are $16.95; and super-aged rum flights are $18.95. But here's the big draw --- during happy hour, flights are discounted by $5.
Paladar does not use mixes for its drinks. They muddle and puree the fruits and herbs used in the bar drinks. Drink prices are on par with other local restaurants. A traditional muddled-lime caipirinha made with Brazilian cachaca is $7.95.
THE BAR serves up mojitos and coladas, as well.
While the staff is a diverse mix of ethnic cultures, executive chef Nelson Rodriguez comes from El Salvador and catering manager Alvaro Quiroga is Bolivian-American. Their Latin American heritages bring "authenticity" to the restaurant. Rodriguez came to Paladar from Cuba Libre where he worked for six years.
"These are traditional Latin dishes with a twist of my own," said Rodriguez. "It's good food made the best I can. I want customers to see the food is cooked with love."
Every 28 days, new menu items appear, from appetizers to entrée, desserts and drink. Most entrees are priced under $20 and Paladar's happy hour of drink and food runs 4 to 7 p.m. daily.
Karen Mahach and Sheila and Ken Meyd, of Dunn Loring, were guests at the Food for Others benefit dinner. They agreed that Paladar's food is "fantastic."
"We needed a Cuban-style restaurant here and now we have one," Ken Meyd said.
"Everything we've had is pretty perfect," said Potomac School senior Ella Caplin as she and her father finished up a meal of diverse dishes. "It's fantastic. Everything we tried made me want to order more."
"Part of the sense of community is that the staff treats you like family as soon as you sit down," Caplin said.
Paladar Latin Kitchen and Rum Bar is located at 1934 Old Gallows Road, Suite 110, Vienna, 22182, at the intersection of Old Gallows Road and Leesburg Pike. Call 703-854-1728 for reservations. To learn more about Paladar and view the menu, go to www.PaladarLatinKitchen.com.