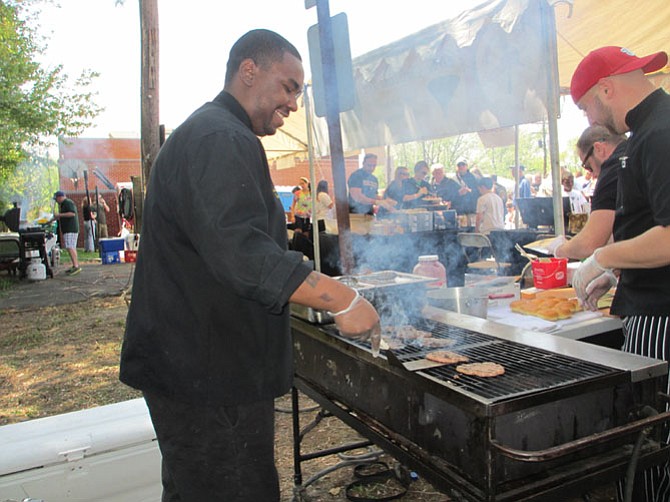 Thirty local restaurants have signed up to participate in the 4th Annual Taste of Vienna celebration, coming up on April 25, on the grounds of the Vienna Volunteer Fire Department [VVFD]. Taste of Vienna is sponsored and hosted by the Vienna Volunteer Fire Department.
"This is a fun-filled community event with food and family activities," said Vienna Volunteer Fire Department president, Anthony Stancampiano. It's an opportunity to meet and mingle with acquaintances and friends, enjoying great food while supporting VVFD, Stancampiano said.
PARTICIPATING RESTAURANTS include Donatos, Al Nakheel Lebanese Café, Ya Hala Restaurant, Turmeric Indian Dining, Crepe Amour, Tara Thai Vienna, The Fresh Market, Caffé Amouri, Bazin's on Church, Elevation Burger Vienna, Viet Aroma, Robeks Fruit Smoothies, Culinaria Cooking School, Famous Dave's BBQ, Blackfinn Ameripub, Paddy Barry's Irish Pub & Restaurant, Maplewood Grill, Pure Pasty Co, Social Burger, Paladar Latin Kitchen & Rum Bar, Vienna Inn, Lombardi's Pizza/Church Street Pizza, Ayoba-Yo, Yuengling's Ice Cream, Sweet City Desserts, Bistro 7107, Whole Foods Market, Clarity, and Potbelly Sandwich Shop. Beer, wine and soft drinks are for sale, as well.
"Taste of Vienna is another great community event that we enjoy because it showcases many of our delicious area restaurants like Maplewood Grill, one of our family favorites," said Dan Govan, Vienna.
Admission is free, and, guests purchase meals and drinks directly from vendors. Live musical entertainment plays throughout the day. There's a bounce-house and face painting for kids, as well, and musical talent from Vienna's own School of Rock perform early in the day. Proceeds from Taste of Vienna benefit the Vienna Volunteer Fire Department.
"I always enjoy the Taste of Vienna because there is a huge variety of food to sample from many of the restaurants in town," said Mike Davis of Vienna. "I can try something from a restaurant I have never been to before, or, have some cuisine from a restaurant I love. It's all right there in one place, no traveling all over town. I enjoy seeing many people I know and socializing with them …"
THE VIENNA VOLUNTEER FIRE DEPARTMENT HAS BEEN IN SERVICE to the Vienna community for more than 100 years. It is anchored by volunteer first-responders and administrators, as well as by Fairfax County career professionals.
Taste of Vienna is VVFD's most dominant fundraiser. Proceeds help pay off the mortgage or buy new equipment. In 2014, VVFD brought in about $45,000, and, after expenses, netted $15,000. The funds went to paying down the building's mortgage.
Beer and wine sales, sponsorships, and vendor entry fees bring in revenue. This is the first year that Taste of Vienna has sold out its vendor space. "It's growing," Stancampiano said.
Taste of Vienna is sponsored in large part by Navy Federal Credit Union.
Referring to Taste of Vienna, Davis said, "it's a great way to help support our local fire department, and an opportunity to thank all of the personnel who are working there that day," said Davis.
"Oh, and then there is the opportunity to taste many varieties of beer … I'll be pouring it again this year."
THE 4TH ANNUAL TASTE OF VIENNA is scheduled for Saturday, April 25, 11 a.m. to 8 p.m. at 400 Center Street South, Vienna Volunteer Fire Department. To learn more about Taste of Vienna, go to http://www.tasteofvienna.org/ For updates on the 4th Annual Taste of Vienna, go to https://www.facebook.com/tasteofvienna?fref=ts. Rain or shine.