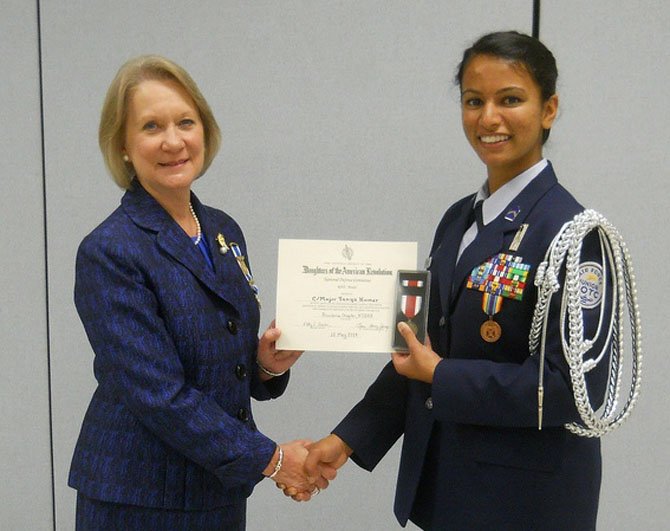 Centreville — Marsha Price of Providence Chapter, Daughters of the American Revolution (DAR), presented the DAR ROTC Bronze Award to Cadet Major Tanya Kumar at the Air Force Junior ROTC Pass-in-Review ceremony on May 10. Cadet Major Kumar, who attends Centreville High School, participates in the Junior ROTC program at Chantilly High School. She plans to study intelligence analysis at James Madison University in the fall.
DAR awards ROTC medals to student cadets of outstanding ability and achievement. The schools select the award recipients, who must have shown qualities of dependability, good character, adherence to military discipline, leadership ability, and understanding of the importance of ROTC training. In addition, the recipients must have demonstrated loyalty and patriotism, must have earned a record of military achievement through their participation in the ROTC program, and must have been in the upper 25 percent of their classes in ROTC and in academic subjects.
DAR was founded in 1890 to promote patriotism, preserve American history, and support better education for the nation's children. Its members are descended from the patriots who won American independence during the Revolutionary War. See www.DAR.org.