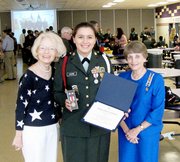 Anna Maria Fitzhugh Chapter, National Society Daughters of the American Revolution, recently presented several awards at local schools.
Gloria Williams, senior at Lake Braddock Secondary School, received the DAR Good Citizens Award. Gloria will be attending the University of Virginia where she will study chemical engineering. Gloria was also selected the Good Citizen Award winner for DAR District V which is composed of 28 DAR chapters in Northern Virginia. The DAR Good Citizen Award recognizes a high school senior who exhibits dependability, service, leadership and patriotism to an outstanding degree.
Cadet Kateri J. OHare of Lake Braddock Secondary School received the DAR Bronze ROTC Medal. The award is presented to one outstanding cadet in the school ROTC unit. Kateri plans to attend college in Texas.
The DAR Good Citizenship Medal was presented to one outstanding sixth grader at 11 local elementary schools. The winners have exhibited service, courage, honor, leadership and patriotism.
*Cardinal Forest Elementary School - Sofia O'Connor
*Cherry Run Elementary School - Peter Chamberlin
*Hunt Valley Elementary School - Isabel Hogg
*Keene Mill Elementary School - Nithin Bagel
*King's Glen Elementary School - Abby Sacks
*Orange Hunt Elementary School - Martin Trompeta
*Ravensworth Elementary School - Talia Enav
*Rolling Valley Elementary School - Emma Jones
*Sangster Elementary School - Meredith Nolan
*West Springfield Elementary School - Brooke Elizabeth Higgison
*White Oaks Elementary School - Elizabeth Moore
Nolan Shelton of Keene Mill Elementary School received the DAR Outstanding Work in American History Medal.