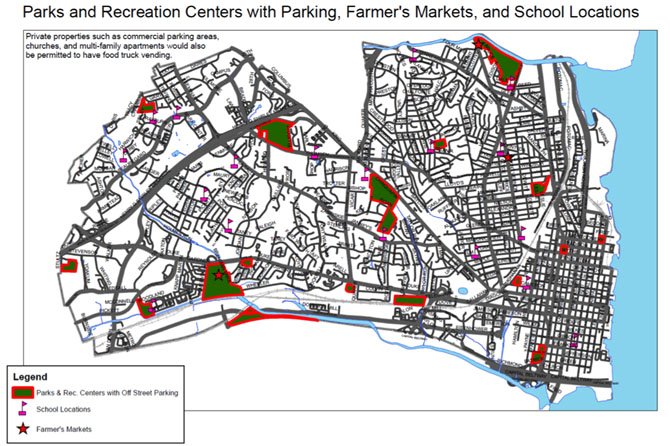 The food truck craze is coming to a city park or a farmer's market near you, part of a 16-month pilot program that will allow the mobile vendors to set up shop and see what happens. City Council members approved the pilot program in a four-to-two vote with Vice Mayor Allison Silberberg and Councilman Paul Smedberg voting no. Disgruntled restaurant owners across the city are talking about creating a new association specifically to fight expanding the program to hot spots in Old Town and Del Ray, a move city officials have been pushing for more than a year. The pilot is scheduled to begin in July and run through October 2015.
How It Will Work
Before selling food in Alexandria, vendors must first receive a food truck license, a health permit and a business license. That includes application fee of $100, and an annual food vending license fee is $40. Vendors will be able to set up at local schools with the permission of the superintendent. They will be able to set up at farmer's markets with the permission of the market master. And they will be able to set up at city parts with the permission of the Department of Recreation, Parks and Cultural Activities. During the pilot program, vendors will be prohibited from parking on any city streets, which means they will be limited to parking lots and driveways.
"This is a very positive first step," said Che Ruddell-Tabisola, executive director of the DC Food Truck Association. "What the ordinance does most significantly is it creates a way for food trucks to get licensed and permitted and operate in Alexandria, and that's a terrific accomplishment."
Until now, Alexandria has had the most restrictive rules limiting food trucks to private property and construction sites. Last year, city officials tried to bring a proposal to City Council members but restaurant owners balked, and City Manager Rashad Young formed a work group of stakeholders to examine the issue and offer recommendations. Members of that group now say they've been snubbed because Young recommended moving forward with an ordinance even though the group was not given an opportunity to issue a report.
"Right now, we're in a state of hibernation to see what happens next," said Yvonne Weight Callahan, convener of the work group. "There's no plans right now for the work group to reconvene."
THE FOOD FIGHT began this time last year, when the city manager created the ill-fated work group. Smedberg said he believed the work group should be allowed to issue its report and offer recommendations before council members took action, although a majority of his colleagues disagreed. During a marathon public hearing Saturday, many speakers said they believed the city manager's process was deeply flawed and wondered why the work group was created in the first place if city leaders were going to ignore it in the end.
"I'm dismayed that we can't seem to get this process right," said Val Hawkins, president of the Alexandria Economic Development Partnership. "Civic engagement is taking a beating."
Restaurant owners say they are at a significant disadvantage to food trucks, who can breeze into town and set up shop without first obtaining a special-use permit from City Council and having their signs approved by the Board of Architectural Review. Light Horse Restaurant owner John Jarecki said he counted 93 separate restaurants between the Potomac River and the King Street Metro station, a key part of the city's economy that could be undermined by bringing in more food vendors.
"The pie is getting sliced thinner and thinner," said Jarecki. "Five restaurants are currently for sale, and several more on the verge."
A NUMBER of food truck vendors came to Alexandria to testify in favor of allowing mobile vendors, including one woman who wants to sell clothing from a mobile food truck. Many of the food truck owners said the mobile vending allows more access to the marketplace because it has fewer barriers to entering the market. Several speakers said food truck operators frequently use the experience as a springboard to starting a brick-and-mortar restaurant. Others said they once owned a restaurant that was forced to close and owning a food truck allows them to stay in business. Doug Povich, chairman of the DMV Food Truck Association, urged council members to adopt the city manager's proposal rather than the scaled down pilot program.
"We approve of the regulatory flexibility," said Povich. "We urge you to adopt it without delay."
COUNCIL MEMBERS voted for delay, though. That will give both sides more than a year to make their arguments and marshal their forces for yet another fight at the end of next year. That's when council members will once again consider allowing mobile vending on city streets in Old Town, Del Ray and Carlyle. If last weekend's public hearing is any indication, the food fight to come will be an epic battle of rival business models and plenty of rotten tomatoes.
"They are nauseating and ugly," said Alexandria resident Ursula Witte. "I'd rather starve."