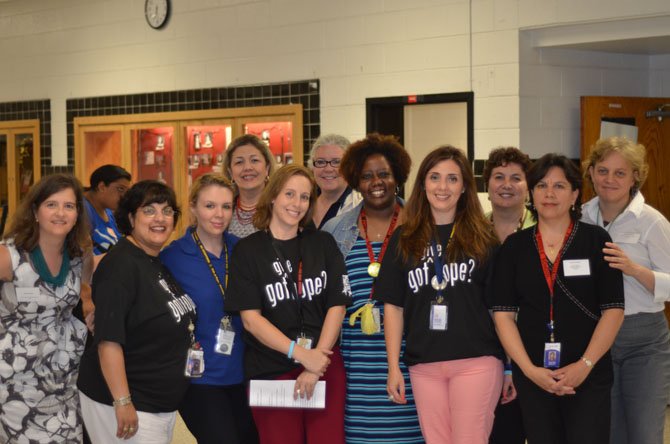 On Thursday, May 15, representatives and staff throughout the Herndon school pyramid went to Herndon High auditorium for an evening presentation on Teen Sex Trafficking. The purpose of the event was to help parents understand the risks their children face, and how to help keep them safe. "This is the first time we are doing this presentation in Herndon," said Heather Coleman, a social worker with Fairfax County Public Schools. Based on the success of this event, the Herndon schools are considering making this an annual event.
Teen sex trafficking is identified as "the act of manipulating or forcing anyone under the age of 18 to engage in a sex act in exchange for anything of value (money, drugs, shelter, food, clothes, etc.)" Police identify an average of two new potential victims per week. According to police reports traffickers often keep young girls in the cycle of violence and make them feel like they have no escape, which is why awareness is important. In 2013, the Fairfax County Police Department counted 129 charges of prostitution.
"We all realize that there is significant concern in the Herndon community about this topic," said Herndon Principal William Bates. "Between the schools, churches, and businesses, we need to partner together not just to speak about this issue but look at ways to address it." In 2013, an Atlanta man pleaded guilty to trafficking underage girls in Virginia and several other states. According to court documents, the girls were sold for sex at several hotels in the Northern Virginia area, including Homestead Studio Suites in Sterling, Aloft Hotel in Ashburn, and the Holiday Inn Express, Washington Dulles Marriott Suites, and the Hyatt House Hotel, all located in Herndon.
THE EVENT was promoted primarily within the parent community. "I think it is really important to make sure our children are protected," said Jennifer Boysko, who has an 11th grade daughter attending Herndon High. Boysko is a member of Herndon High PTA. Kate Reen, an employee of Northern Virginia Family Services (NVFS) had a stand with information about the organization. "We have a gang prevention program, the IPE program (Intervention, Prevention and Education)," said Reen. This program was designed to reduce violence and counteract the appeal of gang membership among language and ethnic minority children, ages 12 to 21, in the Northern Virginia area.
Other resource organizations were also present to provide information about keeping loved ones safe. The event was translated live in Arabic, Spanish, and Urdu and childcare was provided for school aged children. Heather Coleman introduced the speakers at the event, Deepa Patel, Director of the Sexual Exploitation and Gang Intervention Program and Ed Ryan, Coordinator of Fairfax Gang Prevention.
"I have been in this position for four years," said Ryan. "I am interested in helping kids who are involved in gangs get out." Ryan explained some gangs use human trafficking as means of accruing money. "This can happen anywhere," said Ryan. Ryan went through a slideshow on human trafficking, explaining that it is an issue that all races and all classes face. "I say gang member, and an image pops into peoples' minds," said Ryan.
Ryan reviewed the criminal activities of Justin Strom of Lorton, a gang member who in 2012 admitted to running a prostitution ring that recruited high school girls in Northern Virginia for paid sex acts and threatened those who refused to participate. Strom ran the ring and recruited at least eight girls to participate over a six-year period, pleading guilty in U.S. District Court to sex trafficking of a child. Ryan explained Strom used social media tools including Facebook to find potential targets for his prostitution ring. Ryan emphasized parents should be aware of the social media activities of their children.

"We do the treatment side of things," said Patel. Patel explained various scenarios in which a person may be exploited for sex trafficking. "Many pimps use social media, fake accounts, and mass messaging," said Patel. "To be a part of something that is huge, gangs offer kids a sense of identity and belonging."

TO GANGS trafficking children is a low cost, high payoff enterprises with less risks than illegal drugs. Nearly 100,000 American children are being exploited for pornography and prostitution every year.
Detective William Woolf, lead investigator of the Fairfax County Police Department's human trafficking unit, highlighted the "Just Ask" Prevention Project, a new public awareness campaign addressing the increasing prevalence of Teen Sex Trafficking in the region. The goal of the effort is to inspire residents to get involved with prevention and encourage them to learn more about spotting and reporting manipulative recruiters. After the presentations were concluded, the guest speakers answered questions. "I think the event was great, all the resources are great for parents and schools," said Laura Janelle, a gym teacher at Clearview Elementary. For information about the "Just Ask" Prevention Project, visit justaskva.org.