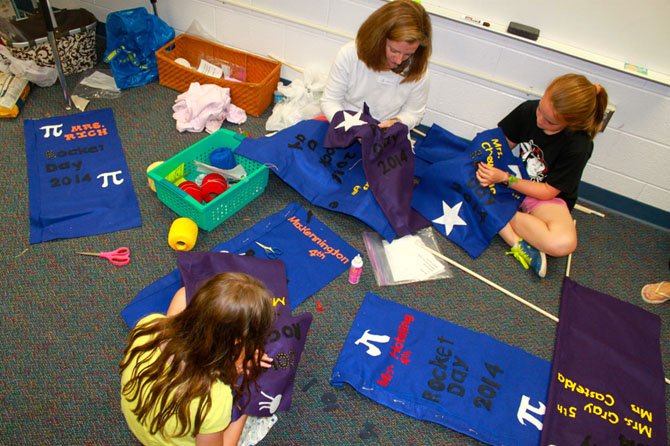 Next month, students at Great Falls Elementary will prove that rocket science has no age limit.
Each homeroom put together and decorated model rockets on the 20th and 21st for their third annual Rocket Days.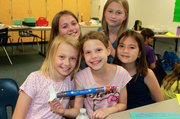 "A parent realized he had a passion for model rockets when he was a kid and thought it would be neat to start it," said Dawn Schnell, parent chairperson for Rocket Days. "Some of these rockets go 600 feet high."
The rockets are not going to take to the sky until June 10-13, but much of the legwork to prepare for the 40 models were done last week.
The students learned to put together their rockets and learned the difference between three models as a Science, Technology, Engineering and Math (STEM) component, but used the left side of their brain the next day when they painted the rockets. Some students studded theirs with stickers. Others dusted them with bursts of glitter.
"We had multiple types of rockets to choose from," said fifth grade student Shibli Nomani. "In the bigger ones like this, a parachute will drop out because it's heavier."
He said bits of yellow were incorporated in the design because his class voted on that color. He wanted to make the rocket comic book themed to add a twist to his class's idea.
"I like rockets and building stuff. I have a rocket set close to this one. It's cool when they launch."

— Sixth grader Mark Mahdessian
The sixth grade students have made a rocket for the principal as a class gift. Some of the fourth graders were helping to decorate a red, white, blue and orange model rocket this year for the busy sixth grade students.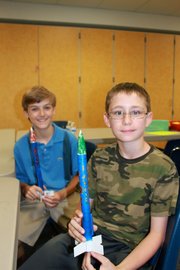 Decorating was a reprieve from following complicated instructions on building models of a vehicle they have only seen in pictures or on the television.
"Some of it was confusing, but it was fun," said fourth grade student Rose Boos.
Sixth grade student Mark Mahdessian wanted to build a rocket like the ones he has seen on the news.
"I had a few stickers, so I wanted to have 'U.S.A' down the side like a traditional rocket," he said. "I like rockets and building stuff. I have a rocket set close to this one. It's cool when they launch."
The students also took the time to use their leftover glitter to create advertisements to place around the school building. Schnell said she is emailing parents their own invites.
The 40 rockets will be launched by grade. Fourth graders will launch on June 10, fifth graders will launch June 11 and sixth graders will launch on June 13 with the mornings being used to do experiments and study rocket flight. June 12 will be a rain date.