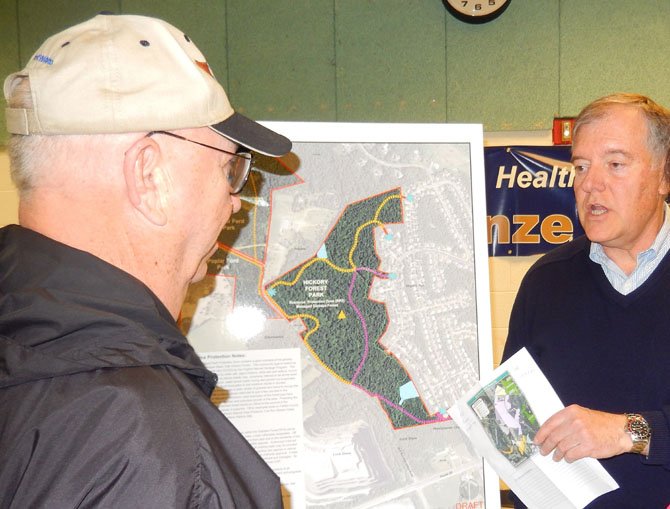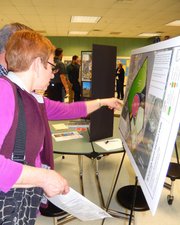 Centreville — The Fairfax County Park Authority wants to hear residents' thoughts about its new comprehensive plan for parkland in Sully Woodlands. So it held a recent public meeting in Centreville to let people see what's proposed and comment on it.
"In an urban county as developed as Fairfax is, you don't get to do this on as large a scale as this, that often," said Supervisor Michael R. Frey (R-Sully). "It's an opportunity the Park Authority, the residents and I are excited about."
The plan includes the parkland north of Route 29 on the west side of Virginia Run, parkland along Bull Run Post Office Road, the Bull Run stream and parkland along Pleasant Valley Road up to the Loudoun County border.
Once it's developed, it'll go to the Planning Commission for final approval. But residents have until this Friday, May 30, to e-mail their comments to Parkmail@fairfaxcounty.gov. At the meeting, Sandy Stallman, the Park Authority's manager of Park Planning, presented both background and details.
Sully Woodlands encompasses 4,400 acres and 43 parks. It aligns with the Bull Run and Cub Run watersheds and goes all the way from Dulles Airport to Cub Run. "Balancing recreation opportunities with the need to preserve the natural and cultural resources, we developed a system of park areas connected by green space and trails," said Stallman. "The goal was to provide an integrated experience for people."
Specific-use zones, such as community-serving recreation space and resource-stewardship areas, were designated in each park. And Sully Highlands, a new sports park with five athletic fields, will open this year via a development proffer.
"A trail plan was identified throughout the region and a bridge over Cub Run connected the rec center and Westfield High," said Stallman. "And we completed the master plan for Historic Centreville Park. Now we're doing the core properties planning."
Park Authority Property Manager Pat Rosend said some 2,000 acres are in the core properties. The park areas are identified as: Elklick Preserve, Mountain Road District Park, Poplar Ford, Hickory Forest and Sappington.
* Hickory Forest Park
"At the southern end is Hickory Forest Park," said Rosend. "It's 95 acres and could be used for a 5-acre local park with a playground, tennis courts and picnic area. It's planned for 8-foot, accessible, asphalt trails. There'll be pedestrian access only and it'll be open from dawn to dusk."
* Poplar Ford Park
Poplar Ford Park is 535 acres south of Bull Run Post Office Road and along the Bull Run frontage. It's envisioned to have 6.65 miles of mixed-use, natural-surface trails, a picnic shelter, an area for radio-controlled model aircraft, plus animal and plant habitats.
"Small watercraft such as kayaks could access Bull Run from here," said Rosend. "The official gateway to Sully Woodlands, along Bull Run Post Office Road, would be at this park."
* Elklick Preserve
At 1,367 acres, Elklick Preserve is the largest park of the Sully Woodlands core properties. It contains a rare, oak-and-hickory forest, so most of this site would be designated for natural and cultural resource protection. A 7.5-mile trail network would connect it to the other parks.
"There'd be managed open space along Braddock Road for low-impact activities such as picnics, with permits," said Rosend. "A Sully Woodlands stewardship education center could also go here.
* Mountain Road District Park
Mountain Road District Park is 200 acres at the Braddock/Pleasant Valley roads intersection. Part of it is planned for regionwide, active recreation. It would include lighted athletic fields, a basketball/volleyball complex, flexible open space for permitted uses and events, plus picnic areas and extensive parking. However, a third of the site would remain forest.
* Sappington
"Sappington, the 220-acre parcel in the center [of Sully Woodlands] was purchased in 2010, after the 2006 adoption of the Sully Woodlands Master Plan," said Rosend. It's east of Bull Run Post Office Road and adjacent to Elklick Preserve.
"We're looking to the public for guidance and ideas about its development," continued Rosend. "It's mostly meadow with a scrub-cedar cover and a mature forest. And it's bisected by a 300-foot-wide utility corridor. Some of the use suggestions have been a mountain-bike course, athletic fields and a performance venue."
In all five parks together, she said, "We'll have 18 miles of new trails and 80-percent undisturbed open space."
"Instead of planning each park individually, we've taken an overview of the entire area to make sure we're in balance," said Sully District Park Authority representative Hal Strickland. "We need to be careful what we do with this because, two generations from now, this may be the only large contiguous green area in Northern Virginia."
Frey said the Board of Supervisors started "putting together properties in the early 2000s. We bought land a developer had held for 20 years, and we also bought land from families. We got some grants, state and federal money and bond money and did it piece by piece. We wanted to preserve as much of this environmentally sensitive land as possible."
"We took the opportunity to add parkland that might never come again," continued Frey. "And we want people to learn about the culture and history of the land. It will be a fabulous, countywide facility — but it's also in the heart of our community, so we want to get public input."
During the meeting, residents perused displays showing what each park looks like and were able to ask questions and discuss their ideas with Park Authority representatives. Pleased, Carolyn Ruby of Virginia Run said, "It's pretty exciting to have all these new parks so close to us."
Nancy Vehrs, president of the Virginia Native Plant Society, said her group would "like to see more open land preserved from the Sappington property and added to Elklick."
"It's a huge project and I wonder about some of the environmental issues," said At-Large Planning Commissioner Jim Hart. "They show athletic fields and a stormwater-management area in the wetlands near the proposed roundabout [at Braddock and Pleasant Valley roads]. I think folks will have concerns about potential impacts on the wetlands. So any development has to be very rigorously reviewed"
One good thing, said Hart, is that "so much land has been acquired and is now in public ownership, minimizing development pressure. This property will be surrounded by developed areas — especially the intense development in Loudoun County. And if you have a big enough contiguous area, it's large enough for animals to live in. It's very significant environmentally."
Ken Bassett of the NVRC Model Airplane Club noted that Poplar Ford Park is the "only legal place in Fairfax County" to fly model airplanes. "We support the aviation classes at Westfield High School," added fellow club member Bob Burnett. "We help them build and fly model airplanes. We also teach new pilots at our field, and the county is tremendously supportive of our efforts."

Meanwhile, Pat Day of Virginia Run looked at a map of Elklick Preserve and smiled. "I'm excited about [this project]," he said. "I'm glad they're thinking about it in the aggregate and putting together a long-term strategy for this area."