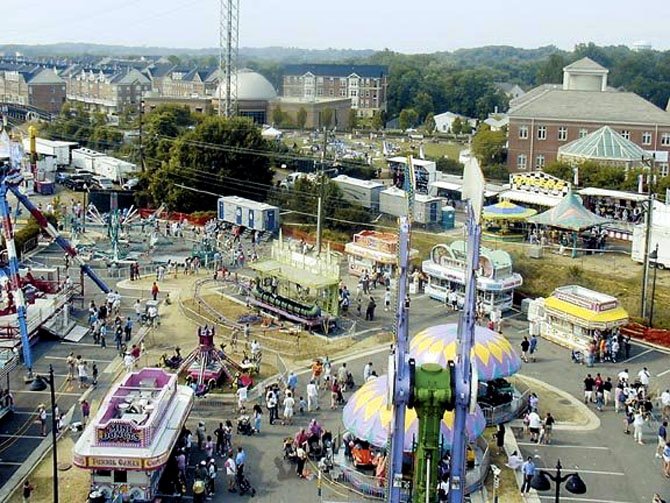 Come one, come all!
The Herndon Festival will celebrate its 34th year -- with a mix of old and new -- everything from familiar concerts and games to a gaming competition that will be live-streamed.
The free festival will be in historic downtown from Thursday to Sunday, May 29—June 1.
"It's a family-oriented event all the way through," said Herndon Parks and Recreation marketing specialist Abby Kimble. "It's a great start to the summer, a great way to get outside and reconnect."
However, she said pets are not allowed on the festival grounds and she discourages anyone from leaving them in their car.
Nearly every other town of Herndon department is involved in bringing the festival to fruition every year, including the police department and Department of Public Works.
"Public Works puts it all up and takes it down overnight so we're back to our small town feel," said Director of Parks and Recreation Cindy Roeder.
AS WITH PREVIOUS YEARS, there will be three stages of entertainment, two nights of fireworks, a plethora of food and craft vendors and free live music will be available.
There will be some new components to this year's event as well, including a social media sponsored scavenger hunt.
"I'd encourage people to walk around and find the sponsors and take pictures of them to post on social media," said Kimble. "You can post it on our facebook page or tweet it #herndonfestival."
Winners will receive festival-related prizes, she said.
John, Paul, George and Ringo will also make a guest appearance - sort of.
"We're having our very own British invasion on the downtown green," said Kimble.
Acts include Steve Lauri from The Hollies, The English Channel and Beatles tribute act The Return will have sets at the festival.
A new gaming event, League of the Legends, was organized by two local college students: 20 teams have been competing, and the finalists will have their battle live-streamed on a large screen at the festival.
"I guess you can say its a modern day Dungeons and Dragons," said Kimble.
Two new art displays will be seen this year. The Virginia Tourism Corporation is bringing a 16-foot high "Love" statue as a part of the Virginia is for Lovers campaign. Additionally, a wind art display will be installed on Saturday.
"We try to mix it up with new things every year so it doesn't feel stale," said Kimble. "There's always something fresh to do."
The only money needed is for food, rides and games. Even parking is free - but Kimble has advice for that.
"Take the shuttle," she said. "It will just start your event off on the right foot. Better yet, ride your bike."
She said staff will look after any bicycles brought to the event for free.
FAIRFAX CONNECTOR SHUTTLES will leave Herndon High School and Worldgate Centre roughly every 10 minutes, according to Roeder. Kimble said for those who park at Worldgate to walk down Worldgate Drive towards the east to catch the shuttle. Signs will point the way.
"It's a great opportunity for family to come out," said Roeder. "We even have fun roaming entertainment to make it seem like a fun carnival-type event."
For more information and a schedule of events, visit herndonfestival.net.