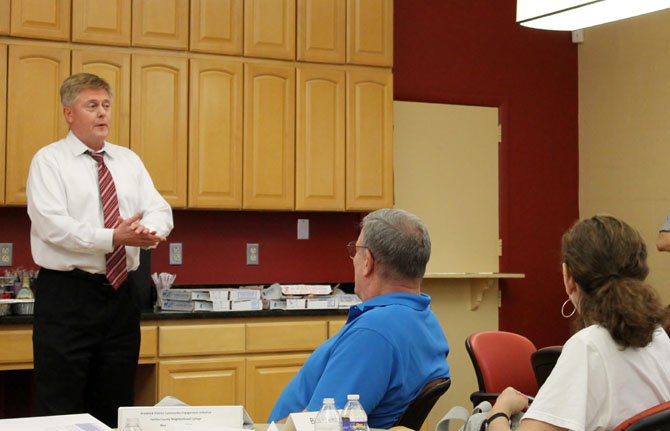 Braddock District residents came to Supervisor John Cook's Neighborhood College Program for a variety of reasons, from wanting to be better leaders of their civic associations to looking to refresh their knowledge of local government, but all will be better informed and more able to navigate Fairfax County after graduating from the class.
"I am a Neighborhood College graduate and know personally the tremendous value this program can bring to the community," said Supervisor Cook. "It has been several years since the last Braddock District Neighborhood College and it is time to train the next set of community leaders and volunteers."
THE SIX-WEEK CLASS helps citizens learn more about the people, organizations and government that make up Fairfax County. At the program's first class on May 15, participants learned about the county's budget and changing demographics.
"Learning about the demographics of Fairfax County was fascinating," said Braddock District resident Cindy Barer. "The diversity of our area is really changing."
The second class on May 22 gave students a look at emergency response in Fairfax County. First on the agenda was J.T. Frey of the West Springfield Police Department, who educated participants on all things police-related in the area.
"I pretty much know West Springfield like the back of my hand," Frey told the class.
According to Frey, the West Springfield District, which is as large as the District of Columbia and stretches from Interstate 95 in Lorton in the South to Fairfax City in the north, has seen changes as more people move into the area.
"Calls for service in West Springfield have gone up in the past five years," Frey said.
The Fairfax County Police Department is also facing decreasing enrollment in their police academy classes. The last class that started the second week of April only has 23 participants, short of the 55 desired students.
In the West Springfield District, there is a minimum staffing of ten officers per shift. In a district with 250,000 people, residents may sometimes experience a longer wait time when calling the police station, Frey said.
Frey encouraged participants to attend Neighborhood Watch Training, which will allow them to become more vigilant of crime in their neighborhood. Kings Park West has experienced success with this program with a very low crime rate.
Citizens also heard from Burke Resident David McKernan, Fairfax County's Emergency Management Coordinator.
"It is a personal responsibility to be prepared for an emergency," McKernan said.
In a county with over one million residents, firefighters and police officers are only stopping where it's really bad, McKernan said.
The Office of Emergency Management prepares for every disaster from hurricanes and earthquakes to nuclear attacks, and the government will not be there to help every citizen in these events.
"We have to be prepared for all of these," McKernan said, encouraging residents to make a kit, make a plan and stay informed. "If you need it to survive, you need it in your kit."
Residents are encouraged to sign up for the new Fairfax Alert system, which sends emergency messages to those within a certain vicinity of an incident.
THE CLASS ENDED with information from Mike Forgy, an instructor with Fairfax County Community Emergency Response Team (CERT). CERT classes are taught year round at the Fairfax County Fire and Rescue Academy as well as locations throughout the community and teach students not only how to prepare themselves for a disaster, but also how to help their community after an incident.
Supervisor Cook said the Neighborhood College Program is great for residents interested in joining their civic association boards, or anyone looking to learn more about Fairfax County. According to Allison Schneider, the communications director in Supervisor Cooks office, a new round of classes is expected to begin in the fall.
"It's a great way to familiarize myself with the county rules and regulations," said Braddock District resident Chris Barer.