Marie Elizabeth Krafft, the Martin A. Schwartz Professor of Chemistry and Biochemistry at Florida State University, 58, of Tallahassee, Fla, died Nov. 9, 2014 after a two-year long struggle with brain cancer.
Surviving family members include Marie's husband, Dr. Robert A. Holton and her son, Paul Evan Holton, stepsons Robert L. Holton and David J. Holton, her father Frank J. Krafft, eight siblings: Barbara A. Krafft; Paula Sue Hanson and her husband Mark; Jeanne Y. Krafft; Donald F. Krafft; Martin J. Krafft and his wife Joey; William A. Krafft and his wife Gail; Stephen E. Krafft and his wife Michelle Yahn; Nancy E. Krafft Moyer; aunts Marie Kelleher and Jean D. Short, and numerous nieces and nephews.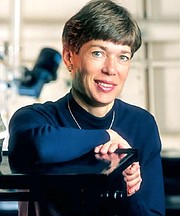 Daughter of Frank J. Krafft and the late Pauline B. Krafft, Marie grew up in Alexandria. She attended Blessed Sacrament Elementary School, T. C. Williams High School, and Northern Virginia Community College before attending Virginia Polytechnic Institute and State University (Virginia Tech), where she earned her B.S., M.S. and Ph.D. degrees in chemistry. Subsequently, she was a postdoctoral associate with Professor Gilbert Stork at Columbia University.
While at Virginia Tech, Marie met and later married the love of her life, Dr. Robert A. Holton. Robert and Marie have a son, Paul Evan Holton, and Robert has two sons, Robert L. Holton and David J. Holton, from a previous marriage.
In 1984 she joined the faculty of Florida State University as Assistant Professor of Chemistry and proceeded to progress rapidly through the ranks. She was internationally known and acclaimed for her seminal contributions in organometallic chemistry and synthetic organic chemistry. Ultimately, she was named Martin A. Schwartz Professor of Chemistry and Biochemistry.
Outside the university, Marie was a star student in Leadership Tallahassee's Class 24 (2006-2007). She was a member of the Mary Brogan Museum Board of Directors, Faith Presbyterian Preschool Board of Directors, Maclay School Board of Trustees, Turn About Board of Directors, and Vice President (and subsequently President) of the MDS Research Foundation. She also served in varying capacities at Faith Presbyterian Church.
Marie handled her disease with incredible bravery. Well beyond her expected survival time she could be found on the slopes at Beaver Creek, Colo., ducking under the ropes to catch the last chairlift while the rest of her family had long-ago retired for the day. She spoke about her condition with a composure and openness that put those around her at ease and made them feel closer to her.
Instead of sending flowers, donate to: Faith Presbyterian Preschool, Marie E. Krafft Endowment, 2200 N Meridian Rd, Tallahassee, FL 32303 or Turn About, 2771 Miccosukee Road, Tallahassee, FL 32308.
The service for Marie will be held Thursday, Nov. 13, 2014 at 11a.m. at Faith Presbyterian Church. The burial will follow at 2 p.m. at MeadowWood Memorial Park (700 Timberlane Rd, Tallahassee). Susie Mozolic of Bevis Funeral Home is assisting the family with their arrangements (www.bevisfh.com or 850-385-2193).
More like this story