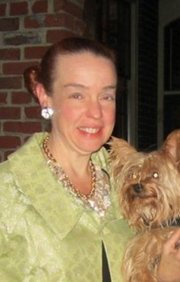 Holly Victoria Burnett, a diabetic who struggled for many years to battle the irregularities of her blood glucose readings, died in her Arlington home on July 19, 2014. She was 49 years old.
A career woman all of her life, Holly spent 14 years at the American Diabetes Association in Alexandria and another nine years at the American Builders and Contractors Association in Arlington. She was the wind beneath most people's wings and was proud to support whomever she was helping, without asking for credit. Of course, she could also tell you every husband of Elizabeth Taylor, recite the film credits of most any actor you could imagine and do a mean Carol Channing and Edith Bunker impersonation.
A child whose father taught her about movies and took her to Broadway shows, Holly spent all her days studying actors and actresses, reading their biographies and watching their films and live theater performances.
As a freshly graduated film major settling into Arlington in 1988, Holly was fortunate to feed her passion with part-time summer jobs teaching film classes at private schools in the Washington area from 1989 through 1997, including Episcopal High School on Quaker Lane, St. Stephens/St. Agnes in Alexandria and The Potomac School in McLean. For many years, she was the hostess of an annual Academy Awards party in her Arlington residence.
Holly freelanced for many publications within the Washington Metropolitan area over the last 25 years and developed a following for her feature pieces as well as her food and theater reviews in The Alexandria Gazette Packet, The Alexandria Times, The Old Town Crier and The Zebra.
Born in Tallahassee, Fla., Holly spent most of her youth in California mapping celebrity homes and lunching and shopping in Beverly Hills. She was an honors graduate of the Westridge School for Girls in Pasadena, Calif., and held a B.A. and master's in English, creative writing and film from Hollins College in Roanoke, Va.
Holly is survived by her father, Joseph A. Burnett, 85, of Lanark Village, Fla., her sister and brother-in-law Wendy and Park Randall Miller of Tallahassee, Fla., her niece Holly Randall Miller, also of Tallahassee, and her longtime friend Mary Wadland of Arlington, and their two little dogs, Teddy and Toddler.
Services will be held Aug. 16 at 5 p.m. at Everly Wheatley Funeral Home, 1500 W. Braddock Road in Alexandria. In lieu of flowers, consider a donation to the American Diabetes Association or the Animal Welfare League of Arlington.