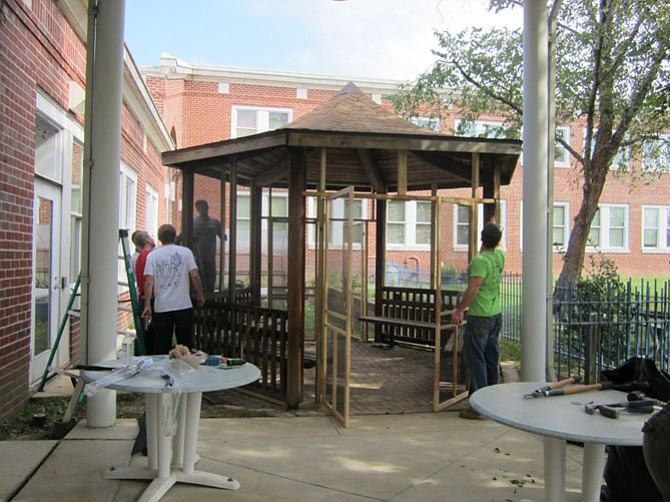 One of the best parts of my job is meeting so many interesting, nice people in our great city. In particular, I have the privilege of getting to know many seniors in our community who have seen and contributed so much. In fact recently, Rebuilding Together Alexandria teamed up with 60 Fannie Mae volunteers to make upgrades to Alexandria's Adult Day Services Center (ADSC), a program offering services to seniors who need assistance and who may not want or cannot stay at home alone during the day.
Based on feedback from center members and staff, volunteers constructed a much needed screened-in outdoor area; built garden beds that are wheelchair accessible; installed handrails in the facility; made exterior benches and wheelchair accessible picnic tables; and put in a wall to honor veterans as part of their efforts to spruce up the seniors' indoor and outdoor recreation space. In all, the updates made the center safer as well as more inviting for the seniors served at the center.
We recently followed up with center members and staff to see how they liked the center makeover. Here's what several had to say:
Bernie is a veteran who loves a good laugh. He was in a war zone in Japan and Korea and feels blessed to have survived sniper attacks. Now he and his wife can no longer drive and are cared for by their daughters. He enjoys visiting (and eating at) the center twice a week. The veteran plaque was his favorite upgrade and means a lot to him. His face also lights up when discussing the renovated outside patio.
Mary is an independent 84-year-old widow and mother of five, who spends several days a week at the center. This former pilot and grandmother is an adventurer at heart. Although she doesn't fly anymore, she is still active and in fact is a 2014 Northern Virginia Senior Olympics gold medalist recipient. Mary noticed the center's "bright, comfortable" peach paint first. She's enjoying tending to the new raised flowerbeds, which she waters daily, and likes reading in the screened gazebo.
The center staff also appreciated the changes. Jackie, the center director, especially likes the flower boxes at the entrance and the patio, and exclaimed: "Now there is a place for everybody." Darryl complemented our volunteers on their workmanship and with how clean they left the center.
Throughout the year, Rebuilding Together Alexandria works to preserve affordable homeownership and revitalize the Alexandria community by providing free repairs and modifications. Since ADSC is "home" to many seniors during the day, the project seemed fitting for our volunteers. The best part is that it gave us a chance to honor our elders by making their "home" away from home more inviting.
If you know an Alexandria homeowner who could use our help, please visit www.RebuildingTogetherAlex.org or call 703-836-1021.