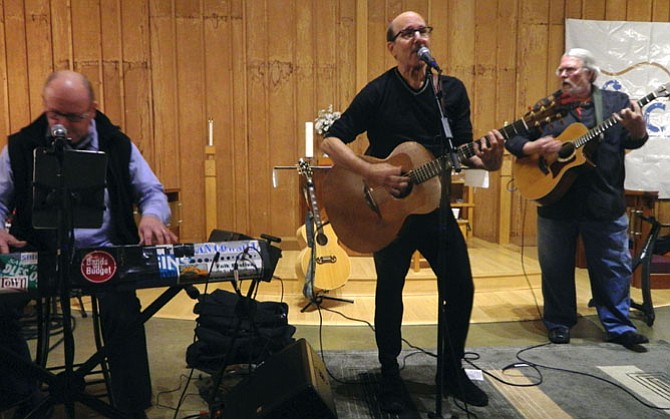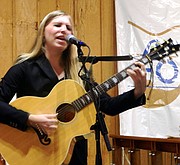 The folk-pop trio of musical satirists known as Modern Man had the crowd at St. Aidan's Saturday night, Nov. 8, fairly rolling on the sanctuary's glossy cement floor. Laughter was brisk and frequent and melodies were toe-tapping as David Buskin, George Wurzbach and Rob Carlson unleashed a flotilla of original comic songs.
This was the third Focus concert this fall at St. Aidan's. For folk music events in the Metro area, check out FocusMusic.org.
Preceding Modern Man on stage was Kipyn Martin. Singer, songwriter and guitarist, she captivated the audience with her first song "Keep Your Lantern Lit" which displayed her luminous, ringing voice, and wowed them again with her second tune "Making Offers I Can't Refuse."
The soaring trills in her voice were reminiscent of Joni Mitchell, which is no accident as she and Alison Shapiro (who performed to audience acclaim at St. Aidan's earlier this fall) are reprising the music of Mitchell and Joan Baez to premiere in Washington, D.C. in 2015. Follow them at JoanandJoni.com.
Before her set was over, she dazzled with her award-winning song "Night Bird," followed by Crosby, Stills & Nash's "You Don't Have to Cry" and Mitchell's own "Big Yellow Taxi." Her impression of Joni Mitchell was dead-on.
A blink of the eye later, Modern Man hit the stage like a trio of rollicking rogue elephants on the run from Barnum and Bailey. After their lengthy opening set of non-stop hilarity, George Wurzbach at his keyboard alone performed a straight, lovely, thoughtful song called "Hannibal the Elephant," about enabling a forlorn pachyderm escape from the Brooklyn Zoo.
Next to solo seriously was David Buskin who sang a gentle song called "Too Much Illusion." Afterwards Rob Carlson, who is Modern Man's comedian-in-chief, landed back on stage and a barrage of song parodies blasted forth. Notables Bob Dylan, The Beach Boys, Johnny Cash and Bruce Springsteen were all skewered, along with all-creatures Hip Hop with Buskin's rap extravaganza "Give Me Some Assisted Living."
They departed from comedy and ended the evening with a delicate song called "The Girls with the Moon in Their Eyes."