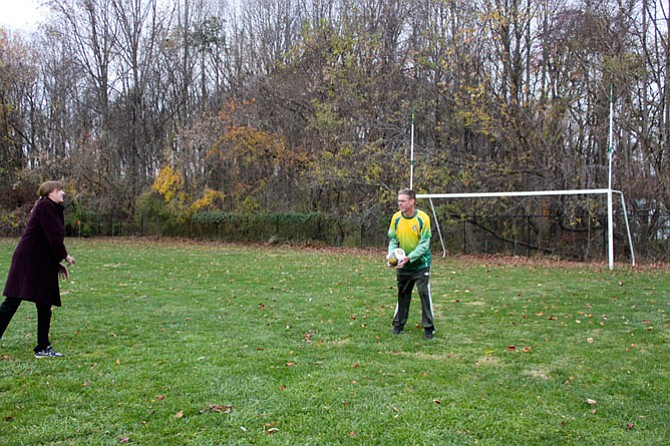 About a year ago, Gary Coetzee nearly died out on the rugby field behind the Great Falls Library.
A freak accident left the former professional rugby player quadriplegic on the grass during a game.
On Saturday, Nov. 22, he is hosting the inaugural Great Falls Rugby Tournament to celebrate how far he has come a year after the accident and raise money for MedStar National Rehabilitation Hospital's spinal cord injury program.
Nearly 100 children from Virginia, D.C. and Maryland have signed up for this year's tournament and to see Coach Coetzee - as he is known to some of the local rugby teams - be able to walk again.
"We want to try to give back to the hospital and the therapist who helped me," he said. "I want to promote the rugby side of it, too, and get kids to recruit."
Him and his wife, Theresa, organized the tournament over the course of a month after Gary brought up the idea on his birthday.
"When the accident happened, I was dumbfounded," said Theresa. "One of the first things he said to me when I saw him was, 'This is going to be bad for recruiting.'"
She said he bruised his spinal cord rather than severing it. If the disk went through rather than downward, he would not have gotten off the field a year ago.
Gary initially spent months in an Atlanta hospital, where he learned to stand up again. This past January, he came back home and focused on the lifestyle change that comes with his new disability and the fact that he will never be able to play rugby again.
"You need to maintain your muscles," he said. "If you stop, you'll just go to waste."
With the lifestyle change came learning how to be dependent on another person. Theresa said that, as a former professional athlete, it was hard for him.
"It leaves you feeling vulnerable," she said. "He's generally a private guy and suddenly, you have to hang it all out there."
More recently, Gary has been able to get back out on the field again - this time to just coach others on the game of rugby. He worries that his accident will deter some parents from allowing their children to sign up, but he still is passionate about the game.
"We're still looking for players and coaches for the spring and summer," he said.