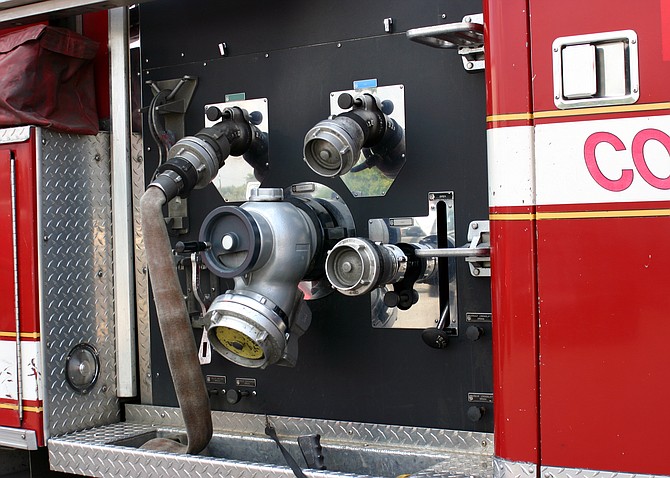 This autumn fires affected residential areas, one causing an estimated $1.25 million worth of damage on Herndon apartment buildings. On Monday, Nov. 10 Fairfax County Fire and Rescue Department responded to the fire at the 13800 block of Jefferson Park Drive at 9:50 a.m. Smoke and fire were coming from the building's top floor and attic.
More than 60 firefighters worked to bring the fire under control in approximately 20 minutes. According to Fairfax County Fire and Rescue Department spokesperson Dan Schmidt, the fire started on the top floor of a four-story apartment building on Monday morning. Fire officials say sprinklers did activate within the building and no one was injured.
Red Cross provided support for 18 displaced people. According to fire investigators, the fire was accidental and caused by improperly discarded smoking materials on a fourth floor balcony. No one was home when the fire started, according to Schmidt.
In the Town of Herndon, Fairfax County Crime Solvers, along with Fairfax County Fire Marshals, are seeking the public's assistance in identifying the person(s) responsible for setting a home on fire. The fire department was called to the home, located in the 800 block of Vine Street in Herndon, around 7:27 a.m. on Sunday, Oct. 26.
The investigation determined the house was a new model home being built in the Vinehaven community development. It was secured on the evening of Friday, Oct. 24, and was unoccupied when firefighters arrived. Fire marshals determined the fire was intentionally set. There were no reported injuries.
Developers of the Vinehaven housing project, Evergreene Homes, celebrated Herndon's first-responders at Vinehaven, located on the corner of Vine and Center streets in downtown Herndon. The company hosted a celebration with refreshments and music Saturday, Nov. 15. The free event was open to local fire, police and government workers and anyone who wanted to meet them. The event was also opportunity to give back to the community. Evergreene Homes collected used coats, gloves and other cold weather clothing items to donate to those in need.
Anyone with information is asked to contact Crime Solvers. Tipsters may submit a tip electronically by visiting www.fairfaxcrimesolvers.org or by calling 1-866-411-TIPS(8477). A $100 to $1,000 cash reward will be paid for information that leads to an arrest and indictment. As always, callers never have to give their names or appear in court.