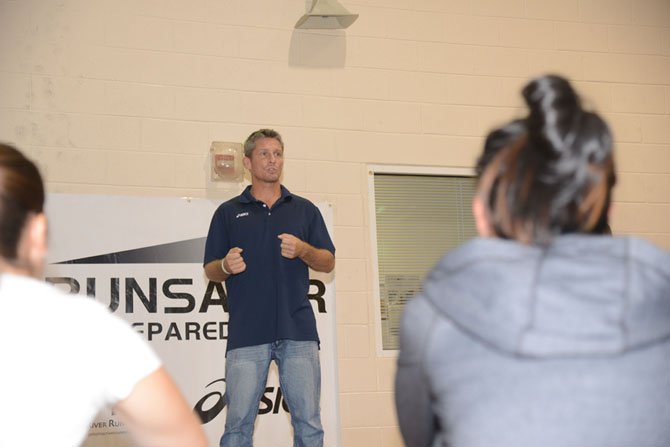 Carin Usrey is an avid runner who lost a friend to assault during college. Now when she is out running for exercise, she is on heightened alert about potential dangers that could pose a threat to those on a fast-paced run or leisurely walk for exercise.
"I think it is so important to educate college students, especially females, about ways that they can defend themselves and escape safely in an assault situation," said Usrey, study abroad coordinator at Marymount University in Arlington.
When the Marymount Wellness Task Force held its Field Day recently and included workshops on staying safe while running, Usrey made sure to attend. The 40-minute workshop, called RunSafer, was led by two-time U.S. Olympic distance runner and Brazilian Jiu Jitsu black belt Todd Williams. Participants learned basic self-defense techniques and safety awareness tips.
"It is easy to distance yourself from assault until it hits close to home, but workshops like these need to be proactive, not reactive," said Usrey. "I was very happy that Todd Williams' RunSafer workshop was hosted on our campus and feel that those who attended, myself included, really got a lot of valuable information and clear, actionable tips on how to protect themselves if ever confronted."
The workshops were part of a collaboration between Potomac River Running and the Marymount Wellness Task Force. Potomac River Running has hosted a variety of events on campus around running-related topics, such as injury reduction.
"When Potomac River Running presented the opportunity to have Todd Williams come to campus, the task force was thrilled," said Natalie Mitchell, director of the university's Counseling Center and co-chair of the University Wellness Committee. She also holds a doctorate in psychology. "The topic of safety is particularly important for the student population, who often feel invulnerable, particularly when they have felt safe and secure in their own life experiences to date."
Williams incorporated humor and real-life situations into his RunSafer workshop to engage and educate the audience. "He brought practical knowledge and safety strategies, as well as self-defense techniques specifically designed to help people defend themselves against larger, more powerful attackers," said Mitchell. "I learned a lot myself and the enthusiasm of the audience was fantastic."
The workshop was a part of an effort by Marymount to bring wellness opportunities to the community. "We have several trails that are very close to campus, and with students coming from all over the United States and different countries, it's important for them to learn about being safe where they choose to run and walk," said Kelly L. DeSenti, dean of student development and engagement.
Williams, who competed for the United States in the 10,000-meter course in the 1992 and 1996 Summer Olympics, spent 11 years studying Jiu Jitsu before receiving his black belt in 2011. He combined his two passions by founding RunSafer, a program sponsored by the athletic equipment company ASICS. He has taught workshops across the country focusing on running safely.
Visit www.runsafer.com for more information.