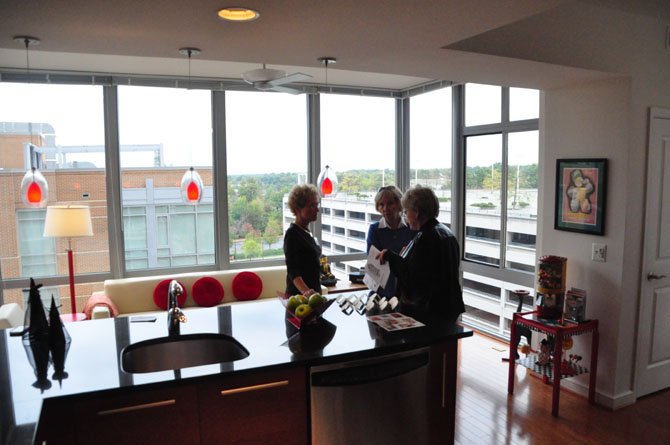 This year, Reston Home Tour will take visitors back through the decades.
Six homes, built from the 1960s until the current decade, are participating in the Oct. 18 Reston Historic Trust and Museum Home Tour the year the town celebrates its 50th anniversary.
"It'll tell you a lot about Reston," said organizer Bonnie Haukness. "Many areas in northern Virginia have the same kind of housing, but per Bob Simon's vision, you can start off in an apartment here then upgrade as you get older."
This will be the 13th year the event will take place. Haukness said the event has changed over the years and now has a VIP Reception for donors and those on the home tour to meet and mingle before the event. This year's reception was at Shashi and Margaret Gupta's home, which was featured during a past home tour.
This year's tour is Oct. 18 from 10 a.m. to 5 p.m. Tickets are $25 if purchased by the Oct. 11 and $30 after.
The oldest home on the tour, a townhouse designed by Charles Goodman in the 1960s, is nearly as old as Reston itself. There will be a stop at the Avant, a new high rise in Reston Town Center, where culinary students from South Lakes High School will serve food featuring all the decades Reston has gone through for guests to sample.
"It will be a fun day," said Haukness. "People get design ideas. People who are interested in art or interior design go on the tour."
ALISON KAL OWNS one of the homes on the tour spotlighting the 1980s.
"I didn't expect to put my home on the tour," she said.
She bought the home in 2011 and expected to have plenty of time to renovate it to her taste.
"I had just finished remodeling it and wasn't done settling in," she said. "I now have deadlines to do things."
She chose Reston and her home because her roots connect her with bodies of water.
"I love the outdoor spaces," she said. "I love being able to walk outside and get on a trail. Everybody is so friendly. It really feels like a little community."
Steve and Emily Ward have lived in Reston since 1973 and have had a home on a previous tour. However, they recently downsized to an apartment at The Avant and will be featured again.
"We collected a lot of American folk art over the last few years and have somewhat of a museum," said Steve. "Reston is such a diverse place where people can do so many different things."
He said that Haukness approached the couple about being on the tour again after seeing their new space.
"We talked about it," he said. "I think we have an interesting story. We moved to an apartment less than half the size of our last home. It was a challenge to get rid of half of everything."
For more information about the Reston Museum and Trust's events, visit www.restonmuseum.org.