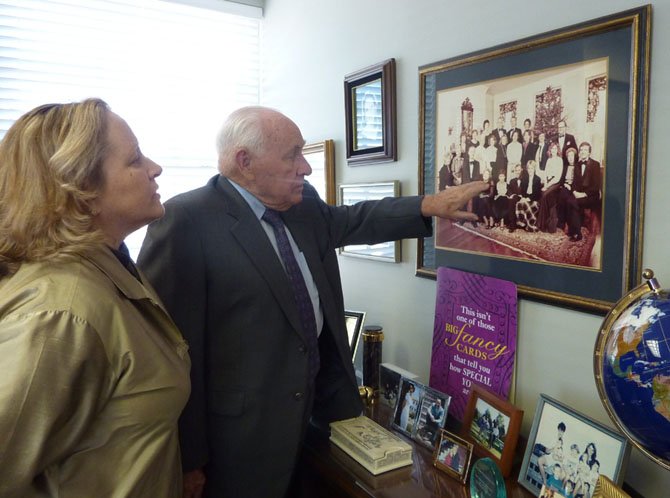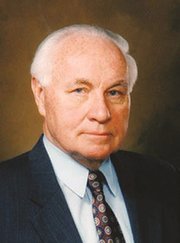 For John McEnearney, helping the area's most vulnerable citizens was part of his DNA, a testament to his family's nearly 100-year commitment to helping others.
"My father instilled in me a strong sense of responsibility to the community," McEnearney said of his father Charles in a 2011 Gazette Packet interview. "He was a very successful businessman and felt strongly about the need to pass some of that success on to the neighborhood."
McEnearney's father was an Irish immigrant who settled in Trinidad, where he acquired the country's sole Ford dealership in 1919 at the height of popularity for the Model T.
"My father worked hard to provide for his family," McEnearney said. "He showed me how to lead by example and taught me the importance of giving back to your community."
As his own company grew, McEnearney followed in his father's footsteps and was an active supporter of more than 50 local charities when he died Oct. 8 of renal failure. He was 87 years old.
Born Nov. 9, 1926 in Paterson, N.J., John Edward McEnearney was the youngest of five children born to Esther and Charles McEnearney. He grew up in Trinidad and attended high school at La Salle Military Academy in Oakdale, N.Y.
"Dad never wanted to create the biggest company, just the best and he did just that."

— Sean McEnearney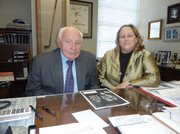 After graduating from the U.S. Naval Academy in 1949, McEnearney embarked upon a 27-year Navy career that included tours in Korea, Antarctica, Puerto Rico, Hawaii and the Pentagon. During his service in Vietnam, he was awarded the Bronze Star Medal for Valor.
McEnearney settled his family in Northern Virginia in 1964 while continuing his military deployments. In 1976, less than 24 hours after retiring as a Navy Captain, he joined Golubin and Warwick real estate in Old Town. After three years as one of the region's top professionals, McEnearney founded the real estate company that bears his name in 1980.
"Dad was proud of what he created at McEnearney," Sean McEnearney said. "But he would be the first to tell you that it couldn't have happened without all of the people that contributed to its success over the years. He knew it was not just him."
What began as a single office in Old Town now numbers seven offices, a commercial division, a relocation department and three locations for property management. Serving all of Northern Virginia, the District of Columbia and Maryland, the firm is consistently ranked among the 75 largest real estate firms by sales volume in the United States.
"When my father founded McEnearney Associates more than 34 years ago, his goal was to gain the respect of the public and to provide real estate services that are second to none," said Maureen McEnearney Dunn, who succeeded her father as president of McEnearney Associates in 2007. "His devotion and loyalty to the company and our associates, clients and customers is a testament to the major contributions and success of the firm throughout the years. John absolutely loved everything about the real estate business and was completely devoted to his agents and staff."
McEnearney served on the board of directors of the Northern Virginia Association of Realtors and was recognized as Businessman of the Year by the Alexandria Chamber of Commerce in 2006. Among numerous other awards are the Hopkins House Lifetime Community Stakeholder award and Senior Services of Alexandria's Generation to Generation award in recognition of his family's ongoing dedication to the community.
"Dad has always been big on giving and we try to give back in all of our communities," Dunn said when she was recognized for her own philanthropy by Senior Services of Alexandria. "When you have a profitable business that gets its business from the community, you need to give something back."
McEnearney was predeceased by his wife of six decades, Virginia "Ginny" Myers McEnearney, in 2009. Survivors include six children: Sean McEnearney of Alexandria; Sharon Bagby of Atlanta; Mark McEnearney of Arlington; and Maureen McEnearney Dunn, Michael McEnearney and Kathleen McEnearney, all of McLean; 11 grandchildren; and five great-grandchildren.
"Dad never wanted to create the biggest company, just the best and he did just that," Sean McEnearney said. "But more importantly, he was a man of integrity and the consummate gentleman in every way."
A FUNERAL MASS will be held on Friday, Oct. 17 at 11:30 a.m. at Saint Luke Catholic Church, 7001 Georgetown Pike, McLean. Burial at Arlington Cemetery with full military honors will be scheduled for later in the year. In lieu of flowers, charitable contributions can be made to Capital Caring (formerly Capital Hospice) and So Others Might Eat.