When a loved one becomes ill, the family is forced into the position of either becoming a caregiver or finding the right person to lovingly provide care. The biggest problem is most people don't have information about the home care business until they suddenly need it.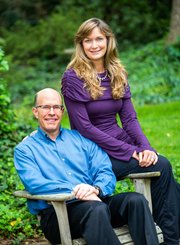 Understanding this first-hand, Potomac residents Cathy and Steve Lorberbaum launched their business, Assisting Hands of Potomac, for the purpose of providing caregivers for area residents. With both of their parents having required caregivers, the couple found quality workers difficult to locate, scrutinize and retain. After much research, they decided to join the Assisting Hands franchise, opening their business in Bethesda in August.
"The franchise has helped us with licensing and policies and procedures, but we operate as an independent business. When you call us, you get one of us immediately. We are always familiar with the case and caregivers, and committed to providing quality care for loved ones and peace of mind for family members. We want to take the confusion out of the home care decision, reduce the stress and anxiety of family caregivers and provide the best personal home care possible," Steve Lorberbaum said.
Assisting Hands provides a range of services including in-home care, Alzheimer's and dementia care and post-surgical care. The caregivers are CPR certified, trained in hospice, fall prevention and in providing comfort to the patient. Some of their services are companion care, transportation to doctors or wherever the patient needs or wants to go, performing the activities of daily living such as grooming, personal care and feeding and making certain that the patient is able to maintain their quality of life with dignity. They take loved ones to activities and help them transition to a new living situation.
"We interview caregivers every day of the week", Steve Lorberbaum said. "We do a skills review and a skills checkup. All of our employees must be Certified Nursing Assistants (CNA) or Certified Geriatric Assistants (CGA.) They must be able to communicate in English written language. All caregivers are bonded, insured and background-checked. If I wouldn't have them work for me as my parent's caregiver, I would not want them in someone else's home."
"We are always seeking bilingual caregivers and will search for just the right person. Once we were looking for a Hindi caregiver," he said. "It was not easy to find one so we visited Hindi Temples and spoke with the members. We finally found a qualified caregiver who also spoke Hindi. We currently have a number of caregivers who are multi-lingual."
Steve Lorberbaum spent 20 years as a lawyer, working in a variety of positions in the law. Next, he became vice president of operations for a number of different companies, then moved into helping start- ups build their businesses. Cathy Lorberbaumis a yoga instructor who is certified in Senior Yoga and knowledgable about senior resources. She teaches at Lifetime Fitness and at the River Falls Community Center. Once they decided to launch their business, Steve Lorberbaum became a Senior Certified Advisor to learn more about senior issues and requirements. They have resided in the River Falls Community for many years.
To find out more about Assisting Hands of Potomac, go to www.assistinghands.com/potomac or potomac_info@assistinghands.com. or call 301-363-2580. The offices are located at 4853 Cordell Ave., Suite PH10-A, Bethesda.