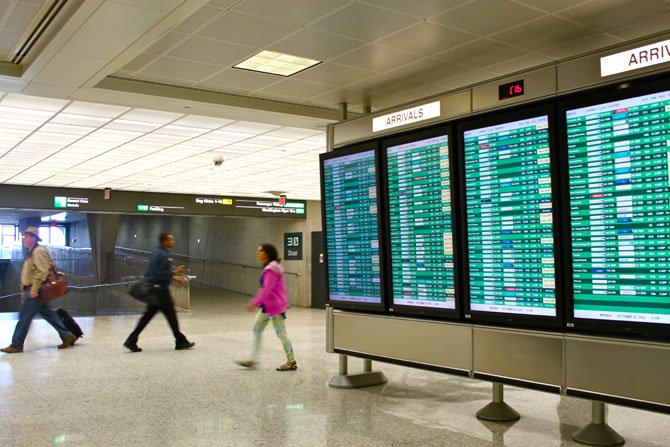 Dulles International Airport was one of five airports in the nation to begin screening for Ebola last Thursday.
The Center for Disease Control and Protection trained staff to check all passengers arriving from Guinea, Liberia and Sierra Leone to check for signs of illness to prevent more passengers from infecting others during their daily interactions.
County Schools Prepared for Ebola Threat
Fairfax County Public Schools is communicating with parents regarding the risks of Ebola in a school setting, according to FCPS spokesperson John Torre.
All county schools already require a strict physical exam before enrolling. Torre said they are working with the county Health Department to implement further measures.
"Health care providers are screening patients for travel history and have received guidance on how to respond appropriately when they determine a patient is at high risk for Ebola," he said. "Effective Oct. 10, FCPS began screening new students for their recent travel history. Students who have visited one of the Ebola-affected countries in the last 21 days will receive an additional assessment by the Health Department to determine the individual's risk."
Torre said all students who go to the nurse's office with a fever will be screened for their travel history as well.
"If a student, or a member of his/her household, has recently visited one of the Ebola-affected countries, the Health Department will follow-up with an additional assessment of the student and his or her family members to determine their risk and, if warranted, take appropriate public health actions," he said.
"We work to continuously increase the safety of Americans," said CDC Director Tom Frieden in a press release. "We believe these new measures will further protect the health of Americans, understanding that nothing we can do will get us to absolute zero risk until we end the Ebola epidemic in West Africa."
The press release states that travelers from the three African countries will be escorted to a separate screening location after having their passport reviewed, observed for any signs of illness or fever. If there are no symptoms present, the individual will be given instructions on how to self-monitor themselves.
If the trained professional believes they are at risk for Ebola, however, they will be "referred to the appropriate public health authority" for further evaluation.
CDC Communication Specialist Anita Blankenship said she would not be able to reveal where individuals would go if they had Ebola symptoms.
"CDC has Memorandum of Agreements with hospitals near U.S. ports of entry that have agreed to evaluate ill travelers if a serious communicable disease is suspected," she said in an email. "The actual hospital names are confidential under the terms of the agreement."
The press release noted that most travelers arriving from Africa with a fever tested positive for malaria.
"In the last two months since exit screening began in the three countries, of 36,000 people screened, 77 people were denied boarding a flight because of the health screening process," it states. "None of the 77 passengers were diagnosed with Ebola and many were diagnosed as ill with malaria, a disease common in West Africa, transmitted by mosquitoes and not contagious from one person to another."
HUNTER MILL SUPERVISOR Cathy Hudgins noted in a press release that Reston Hospital Center was the closest hospital to Dulles International.
"Some residents have expressed fear," she stated. "While we should all have concern, we must not let that turn to panic. Remember, Ebola is not new to Reston. Twenty-five years ago, we worked with appropriate local, state, and federal agencies to contain Ebola, and I believe that we should be able to do the same today."
She said that Reston Hospital Center, like other Northern Virginia hospitals, are preparing themselves for possible sick patients - whether for Ebola, malaria or other illnesses.
"If authorities make the decision that Reston Hospital Center, or any other facility in Fairfax County, is the best option to treat and possibly save an individual's life, then I will support the decision reached by the medical professionals who have all of our best interests at heart," stated Hudgins.
Blankenship did not answer when asked if other passengers will be notified whether a traveler from their plane was taken to the hospital for symptoms or tested positive or how professionals can tell the difference between a traveler with Ebola or other illnesses.
Inova Fairfax spokesperson Tracy Connell said she did not know if they were one of the designated hospitals for Dulles International. However, she did say an individual who vomited and had a fever was taken to the hospital on Friday afternoon for possible Ebola symptoms. At the time, she said the hospital was waiting for the county Health Department to determine whether to test the patient for Ebola.
The hospital is equipped with an isolation room and personal protective equipment for staff to keep themselves safe. In the last week, the staff even ran several emergency drills to prepare for a worst-case scenario epidemic.
"If a patient has the symptoms, we're trained to treat it as if they have Ebola," she said.
A WOMAN WAS ALSO TESTED for Ebola symptoms last week in Loudoun County after coming back from Africa recently. Although her tests came back negative for the virus, Rep. Frank Wolf said there was not enough concern about the epidemic before it came on American soil.
"Since July, I have been voicing concern that there is not a sufficient plan in place to deal with the deadly disease," he said in a press release. "Last week, I called on the Obama Administration to appoint one person to coordinate a response. Regrettably, my recommendations have fallen on deaf ears. Today I am calling for a ban on travel from those West African nations battling Ebola."

In addition to screening at the arrival gate, first responders are being trained on safety protocols when arriving at the scene for someone who is displaying Ebola-like symptoms.
"Ebola prevention is based on principles and approaches that we use every day," said State Health Commissioner Marissa J. Levine in a press release. "However, there are unique aspects of Ebola that require us to make sure our plans and processes are up to date for this new concern."