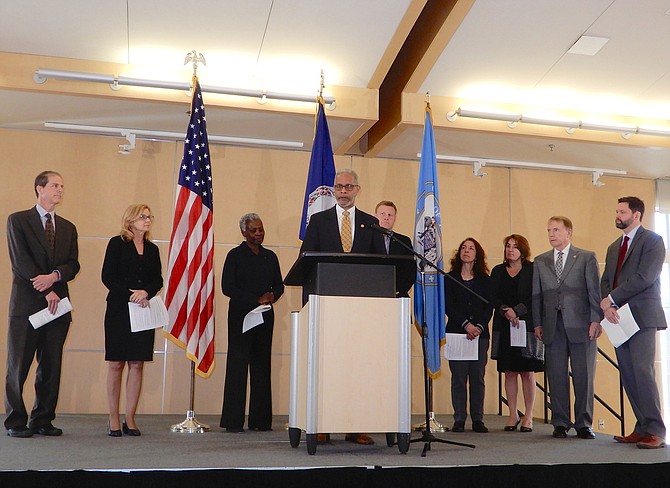 A Fairfax City man in his 80s and his wife have both tested presumptive positive for the coronavirus (COVID-19). Both were infected as a result of international travel, and the husband – who contracted it first – appears to have transmitted the virus to his wife.
"We know the risk of coronavirus disease increases among close contacts of infected persons," said Fairfax County Health Director Dr. Gloria Addo-Ayensu on Monday. "Based on the results of our investigation to date, the [couple] had limited contact with others outside the home while ill, so the risk to the general Fairfax community remains low."
Out of privacy concerns, their names are not being revealed, but health officials say the couple traveled on a similar Nile River cruise as other positive coronavirus patients elsewhere. The husband began developing symptoms of respiratory illness on Feb. 28, was hospitalized last Thursday, March 5, and is currently in stable condition.
According to the Virginia Department of Health (VDH), when he was tested, his wife was asked to self-quarantine at home and she complied. When she developed minor respiratory-illness symptoms herself, specimens were collected from her and sent to the Virginia state laboratory, Sunday, March 8. She, too, is doing well, but was hospitalized during her tests.

Meanwhile, Fairfax City Manager Rob Stalzer has confirmed that six members of the City's Fire Department were also potentially exposed to the disease when they responded to the couple's home, the afternoon of Feb. 28, and are now under quarantine.
"Based on the recommendation of the county Health Department and the CDC [Centers for Disease Control and Prevention], they'll be 'furloughed' for 14 days in their homes, in an abundance of caution," said Stalzer. "And the Fairfax County Health Department has already made contact with them."
STATE AND LOCAL public-health leaders held a press conference, Sunday afternoon, March 8, at the Sherwood Center in Fairfax, sharing what information they could. They also advised people to take normal precautions to remain healthy, while reassuring them there's no reason to panic.
Ironically, the Sherwood Center was scheduled to host the City Fire Department's annual awards ceremony, Sunday afternoon. But it was postponed to a later date, said Stalzer, "out of respect for the firefighters and their families." In addition, Mayor David Meyer had planned to hold his re-election-campaign kickoff that same afternoon, but postponed it, as well.
According to State Health Commissioner, Dr. Norm Oliver, "A coordinated, health response is already underway to identify people who had contact with the [ones] infected and may be at risk, themselves."
State Epidemiologist, Dr. Lilian Peake said the Fairfax man's test was also done in Richmond at Virginia's public-health lab and would be confirmed by the CDC in a few days. Until then, his positive result – which came back Saturday, March 7 – is considered presumptive. The same is true of his wife, who received her positive result Monday, March 9 – the day after the press conference.
On Sunday, Peake said, "By 9 a.m. this morning, 44 Virginians have been tested. Thirty-six have come back negative so far, and we're awaiting the rest of the results." She also noted that the Commonwealth wasted no time springing into action in response to this worldwide threat.
"The Virginia Department of Health [VDH] has been working on this since January," she said. "It set up a Website that's continually updated, plus an information line." The Website is www.vdh.virginia.gov/coronavirus/ and the information phone number is 1-877-ASK-VDH3. And, she added, "If anyone has symptoms including a light fever, cough and difficulty breathing – especially if they've traveled out of the country recently – please call your healthcare provider."
Dr. Ben Schwartz, director of epidemiology with the county Health Department, said the Fairfax City man was hospitalized March 5 with a fever, cough, fatigue and shortness of breath. "If other people are found to have been exposed [to the virus through him], we'll guide them on what to do and monitor them closely," said Schwartz.
He also said the public need not take any additional precautions at this time beyond the normal things anyone would do to prevent the spread of a virus. "Wash your hands thoroughly with soap and water for 20 seconds," said Schwartz. "Cover coughs and sneezes, stay away from people who are sick, and stay home if you're sick, yourself."
County Board of Supervisors Chairman Jeff McKay addressed the crowd, as well. "There's a lot of misinformation out there," he said. "So I implore you to come to Fairfax County as a trusted source of information." The county's Website and information line are: www.fairfaxcounty.gov/health/novel-coronavirus and 703-267-3511.
"Fairfax County has sophisticated plans to deal with this kind of event, and they've been in place for over a decade," continued McKay. "So no one should panic as this situation evolves. We'll constantly message out information to the community."
Regarding children, he said, "If your child is having symptoms, don't send them to school. But at this time, there's absolutely no reason to close the schools – and they're closely monitoring the situation. I also encourage all parents to sign up for messages from FCPS directly."

Schwartz said the county is currently investigating whether the Fairfax man came into contact with any school-aged children or anyone else in a hospital setting. "We're not releasing the name of the hospital he's in, but he's not in intensive care," said Schwartz. "And to our knowledge, [he was on] a different boat than the other [Nile cruise] cases have been on." Furthermore, he said, "We aren't recommending any events be canceled or venues shut down."
Like McKay, Peake said, "Stay tuned to what's going on and get your information from a trusted source like the VDH, CDC or Fairfax County. And take measures to prevent the spread of respiratory diseases."
Also speaking was Dr. Denise Toney, director of the Department of General Service's Division of Consolidated Laboratory Services – the state's public-health lab in Richmond. "Virginia has two test kits in house, and we hope to have several more next week," she said. "Each kit can test 150-200 patients. We have the capacity to handle the volume of patients we have now, and we anticipate access to testing to increase each day."
AT THE END, Mayor Meyer thanked all the health professionals for coming to the City. "I hope their presence here today will give you confidence that the health officials in state and local government are staying on top of this," he told the audience. "The City and county are one entity when it comes to health management. We contract with the county for our comprehensive, public-health services, so our City residents can be assured that they're receiving the best, public-health services available."
As for the six, quarantined, City firefighters, Addo-Ayensu said the county Health Department is "monitoring them daily to see how they're doing and to advise them what they should look for, going forward. In conjunction with the other symptoms, a fever of at least 100 or 101 is especially the critical symptom, because fever is a hallmark of this disease. And we always do other tests to rule out anything else."
"It's a new virus, but the approaches we take are tried and tested and are things we do every day," she continued. For now, said Addo-Ayensu, the elderly – and especially those with underlying medical conditions – seem to be the most vulnerable. And while there's no indication so far that coronavirus affects children, she acknowledged that "We're still learning about it."
She also noted that COVID-19 doesn't spread through brief, casual contact. Rather, it's mainly contracted via respiratory droplets produced when an infected person coughs or sneezes.
Afterward, City Councilman Sang Yi said he, too – as a Councilman, parent and City resident – is keeping a close eye on the virus' potential spread here. "The City of Fairfax is a tightknit community, and I'm praying that our resident who tested presumptively positive makes a full and speedy recovery. The safety and health of our fellow neighbors and residents is our top priority. It's important we all take appropriate precautions and follow health-safety guidelines outlined by the CDC."