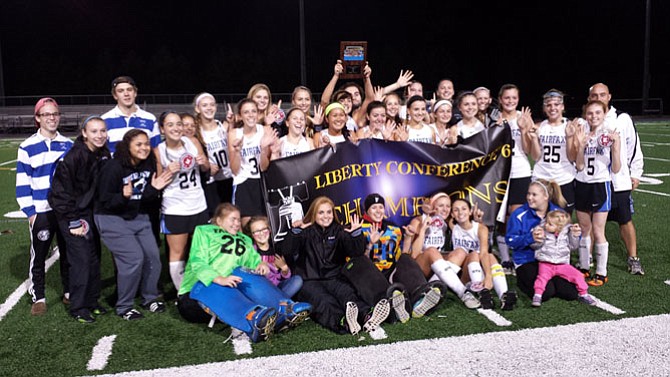 When time expired in the first half of Monday's Conference 6 field hockey tournament final, the goose eggs on the scoreboard initially signified Madison had escaped the opening 30 minutes unscathed against five-time defending champion Fairfax.
"Almost," Fairfax senior Charlotte Duke said after the game.
While time ran out, play would continue as Fairfax had earned a penalty corner in the closing seconds. The Rebels capitalized when senior defender Mackenzie Burnett found the back of the cage for the third time this season, giving Fairfax a 1-0 advantage.
"Before [head coach Amber Beaudoin] told us all to press up, I was thinking to myself, time is out, how great would it be to put one in and go into the second half with a leg up," Burnett said. "It just happened that I got to the ball and I turned and I felt the goalie on me and I just placed it. I feel that that really gave us a push in the second half."
Duke added an insurance goal in the second half and Fairfax won its sixth consecutive Liberty District/Conference 6 championship with a 2-0 victory on Oct. 27 at Fairfax High School.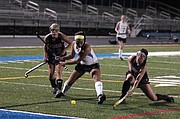 The Rebels got off to a slow start against the Warhawks during their regular-season meeting on Oct. 9, but eventually scored a pair of second-half goals to win, 2-0. On Monday, the teams were again on the verge of entering the second half locked in a scoreless tie, but Burnett's goal gave the Rebels a boost entering the break.
"I think we knew that if we didn't score then," Duke said, "then it would be a bad halftime for us and [Madison] would have more confidence knowing that they survived half the game without us scoring, once again."
The Rebels started their championship run when Burnett was in the seventh grade. No. 21 didn't want the streak to end on her watch.
"It's our six-peat, so it felt like more pressure," Burnett said, "because you didn't want to be the team to break the streak."
Does this title feel any different than the previous five?
"They're all different," Beaudoin said. "They're different kids, they have different personalities. This group is a group of fighters. … We've had injuries all year and people just step in and they play. I love this group."
The Rebels fought their way to a 16-3 record this season with a roster loaded with talented and experienced seniors. Last year, the Rebels finished region runner-up and earned a berth in the state tournament. This year, Fairfax hopes to make another deep postseason run. The Rebels will host Robinson, the No. 4 seed from Conference 5, at 7 p.m. tonight in the opening round of the 6A North region tournament.
"We have a lot of pride in our school and our team," Burnett said, "and we [want] to show that out on the field."
Fairfax's Burnett, forward Duke, senior forward Trisha Le, senior midfielder Olivia Cummings, and senior defender Cori Black each earned first-team all-conference honors. Junior midfielder Victoria Brzezynski, senior midfielder Meg Robertson and sophomore defender Molly Tenerelli were named to the all-conference second team.
The winner of tonight's Fairfax/Robinson game will face the winner of Battlefield/Lake Braddock in the region quarterfinals on Thursday, Oct. 30.