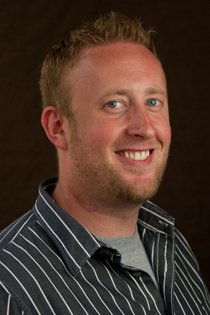 Jon Roetman is an award-winning sports editor with The Connection Newspapers. He joined the company in August 2009, covering Alexandria, Mount Vernon, Arlington and Potomac, Md., and now contributes to coverage in Burke, Springfield, Fairfax and Fairfax Station, as well.
Roetman joined The Connection after more than three years at the Hobbs News-Sun, a daily newspaper in Hobbs, N.M., where he covered high school and small college sports. The News-Sun promoted Roetman to sports editor after two months as a sportswriter.
The Portland, Ore., native graduated from the University of Oregon in 2005. He contributed to the student newspaper, the Oregon Daily Emerald, as a freelancer or staff writer for three years, including covering the football and men's basketball teams.

Recent Stories
Junior running back torches Mount Vernon for career-high 166 yards, two touchdowns.
Edison defeated Mount Vernon 26-6 on Thursday night.

Cougars overcome early deficit to beat Osbourn Park.
Oakton will face Madison on Sept. 3.
Majors finish runner-up in Pool C at UTL tournament.
The Majors finished 2-0-2 at the UTL tournament at Lee High School, Aug. 25-26.
Titans finish 3-0-1, outscore opponents 10-0.
T.C. Williams will face Falls Church on Aug. 29
Spartans finish 2-1-1.
West Springfield will travel to face Herndon on Aug. 29.

Lancers finish 3-1, outscore opponents 17-2.
Lee surpassed its goal total from the entire 2013 season during the two-day Under the Lights tournament on Monday, Tuesday.

Rams finish 4-0 at two-day event.
Robinson field hockey is off to a 4-0 start.

Highlanders trying for first playoff berth since 2011.
The McLean football team will open the 2014 season at Washington-Lee on Sept. 5.

New head coach Dougherty brings up-tempo spread offense.
Woodson football opens the 2014 season on Aug. 29 at Oakton.

Warriors beat Woodbridge on first day of Under the Lights tournament.
The Wakefield field hockey team split its four games at the Under the Lights tournament.