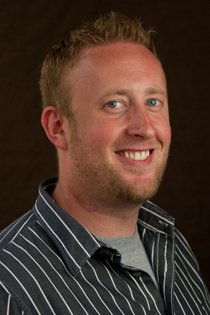 Jon Roetman is an award-winning sports editor with The Connection Newspapers. He joined the company in August 2009, covering Alexandria, Mount Vernon, Arlington and Potomac, Md., and now contributes to coverage in Burke, Springfield, Fairfax and Fairfax Station, as well.
Roetman joined The Connection after more than three years at the Hobbs News-Sun, a daily newspaper in Hobbs, N.M., where he covered high school and small college sports. The News-Sun promoted Roetman to sports editor after two months as a sportswriter.
The Portland, Ore., native graduated from the University of Oregon in 2005. He contributed to the student newspaper, the Oregon Daily Emerald, as a freelancer or staff writer for three years, including covering the football and men's basketball teams.

Recent Stories
The South Lakes volleyball team has two star hitters, a new head coach and some lofty goals. On Saturday, that combination earned fourth place at the NVVA Invitational.

Bulldogs have reached region semis or beyond four straight years.
The Churchill field hockey program has lost in the region semifinals the last three years.

Titans motivated by 2014 season-ending loss to Woodson.
The T.C. Williams field hockey team went 4-0 during the Under the Lights tournament.

Vossler returns for second season as Rams head coach.
The Robinson football team started 6-0 last season but finished 6-5.

Coach Robb: injured goal-scorer Duenkel 'unlikely' to play.
The Langley field hockey team enters the 2015 season with a strong defense.

Seahawks beat Lee at Under the Lights tournament.
South Lakes sophomore Ani Davis scored a career-best three goals against Lee on Monday.

Warriors produce two mercy-rule wins at Lee tournament.
Wakefield finishes 3-1 at the Under the Lights tournament at Lee High School.

Generals have questions at quarterback, running back.
Washington-Lee opens the season at home against Westfield on Sept. 3.

Sammy Stone returns for defending Conference 5 champ.
The Herndon field hockey team finished one victory shy of qualifying for the state tournament in 2014.

Six-foot senior outside hitter is leader of talented Saxons.
Rising senior outside hitter Jessica Donaldson returns to the court for the Langley volleyball team after missing most of her junior year with a knee injury.