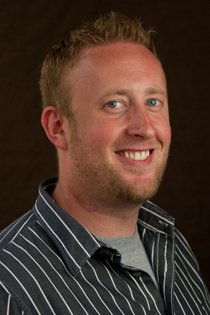 Jon Roetman is an award-winning sports editor with The Connection Newspapers. He joined the company in August 2009, covering Alexandria, Mount Vernon, Arlington and Potomac, Md., and now contributes to coverage in Burke, Springfield, Fairfax and Fairfax Station, as well.
Roetman joined The Connection after more than three years at the Hobbs News-Sun, a daily newspaper in Hobbs, N.M., where he covered high school and small college sports. The News-Sun promoted Roetman to sports editor after two months as a sportswriter.
The Portland, Ore., native graduated from the University of Oregon in 2005. He contributed to the student newspaper, the Oregon Daily Emerald, as a freelancer or staff writer for three years, including covering the football and men's basketball teams.

Recent Stories
Towson signee changed positions to help team.
Ten months removed from a trip to the Conference 13 championship game, the Mount Vernon softball team prepared to enter the 2015 season anchored by all-state outfielder Stormy Zyzyk and promising young pitcher Susannah Anderson.
Cardinals suffer first loss, remain focused on championships.
The Bishop Ireton girls' lacrosse team is still considered one of the best in the nation and the Cardinals' goals remain intact. But on Saturday afternoon in Owings Mills, Md., the defending WCAC and VISAA state champions were reminded that they can still end up on the wrong end of a blowout.
Yaglou, Clark score goals for Cavaliers.
The Woodson boys' soccer team improved to 2-0 in the Conference 7 standings.

Freshman Sandercock throws no­-hitter, strikes out 12 against Holy Cross.
The Bishop O'Connell softball team improved to 10-0.
Bruins beat defending Conference 7 champion West Springfield.
The Lake Braddock baseball team defeated West Springfield on Tuesday to improve to 7-1.
Freshman Mason produces hat trick against Whitman.
After the Whitman boys' lacrosse team scored back-to-back goals to pull within one in the third quarter, Wootton's senior leader and his freshman brother gave the Patriots some breathing room and helped assure they would enter spring break undefeated.

Generals fall to Madison, drop to 1-3.
Back-to-back goals by Kieran Burns gave the Washington-Lee boys' lacrosse team a first-quarter lead. Jackson Newsome's second goal tied the score early in the second quarter.

Junior slugger Sara now known power threat, No. 1 pitcher.
The West Potomac baseball team graduated its top two pitchers from last season, and on March 28 the Wolverines were no-hit and committed nine errors against Paul VI during a game played in low-30-degree temperatures. However, after the frigid 12-0, five-inning loss at Waters Park in Vienna, West Potomac head coach Jim Sullivan and standout junior Jamie Sara spoke of a brighter — and hopefully warmer — future for the Wolverines.

W-­L boys' soccer expects to face defensive-­minded opponents.
The Washington-Lee boys' soccer team is off to a 3-0-1 start.

W-L boys' soccer expects to face defensive-minded opponents.
Washington-Lee forward Maycol Nunez dominated opponents during a stellar sophomore season, scoring 37 goals while leading the Generals to the 2014 VHSL 6A state final.