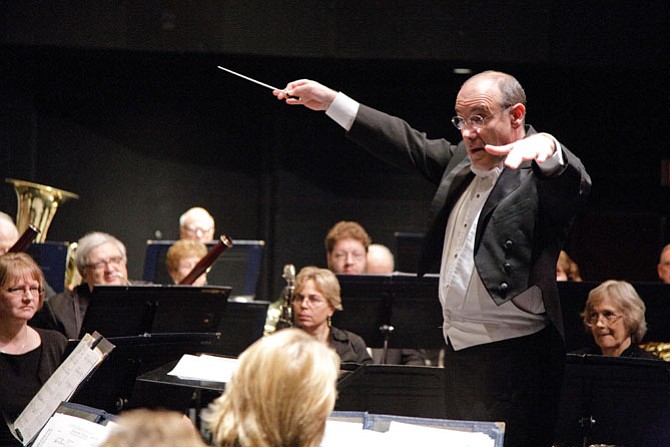 Season Opening
The City Band kicks off their 45th season on Saturday, Nov. 1 at 7:30 p.m. with their "Heroes, Villains & Legends" concert at Fairfax High School, 3501 Rebel Run, Fairfax, with host Rich Kleinfeldt. Tickets are $15 for adults and $10 for seniors. Students under 18 receive free admission. Season tickets are also available. Visit www.fairfaxband.org for more information.
In 1969, Nixon was president, men walked on the moon, gas cost 35 cents a gallon, and the war in Vietnam raged on. In Fairfax, a group of musicians came together to play one summer concert as the City celebrated the Fourth of July.
From there the City of Fairfax Band was born. Now kicking off its 45th season, the City of Fairfax Band has expanded to form the City of Fairfax Band Association, boasting nearly 300 members who perform in nine ensembles. The City Band stands as the flagship ensemble for the Association, carrying on a tradition of musical excellence.
One couple who has been with the City Band since that first summer is Rick and Daria Parrell.
Daria had just finished her eighth grade year and then-Fairfax High School band director Matt Hynes thought the group would be a great way for her to start off her high school career. As the years passed, their friends left for college and careers. Daria explains, "Rick and I both went to George Mason University and stayed in the band. After Tom Hill took over, we had him for classes. We knew his daughters, because they were in the high school band with us, and in the City Band at the time. It was easy to stay on."
For the Parrells, the City Band has been a family affair. They had become friends in the band when they were 14, married at 27, and their children Ricky and Natalie have both played in the Band over the years. Ricky was the first child conductor of the Band when he was seven and now serves as a musician in the U.S. Air Force Band. Natalie is a band director in Fairfax County.
Daria says, "Many people have been in the band 30 years or more. This is part of what gives the band its 'heart.' Making music for fun and the friendships that are forged are powerful reasons to keep playing and helping the band."
Rick, who serves as the Band's associate conductor, adds, "We live in a community that has been blessed by the support of the City. I think people should be proud of having one of the finest community bands in the country, and celebrate the rich history of our wonderful City and community who support the arts."
During current conductor Robert Pouliot's tenure, the City Band performed for the National Band Association convention in New Orleans in 1996, hosted the Association of Concert Bands national convention in Fairfax in 2002, received the Sudler Silver Scroll Award from the John Philip Sousa Foundation in 2004, performed with Tony Award-winners Debbie Gravitte and Michael Maguire in 2010, played at the Association of Concert Bands national convention in Allentown, Pa., in 2014, has celebrated 18 years of awarding scholarships to deserving young high school musicians through the Young Artist Competition, and has added an additional adult ensemble called the Main Street Community Band and built a vibrant and successful youth division with Northern Virginia Youth Winds and Northern Virginia Junior Winds.
This season the City Band will present the World Premiere of two pieces, including a new work for chorus and band by Randol Alan Bass on the Christmas text Hodie Christus Natus Est. Pouliot explains, "This piece celebrates our long association with the Fairfax Choral Society on our Christmas in Fairfax programs." The Band will also collaborate with Mason Cabaret (representing the George Mason University Musical Theater program) on their March Give Our Regards to Broadway program.
Pouliot says, "The Band has proven itself to be an asset to the Fairfax community through our continuing efforts to provide low cost, high quality, family-friendly entertainment offerings to the community, while also giving community musicians a chance to develop their skills through providing a performance outlet."
Jean-Pierre Auffret, who serves as Chairman of the Board, is thankful to the City of Fairfax and regional community for 45 years of continued support. "With three and four generations of residents having attended the annual concert season and community events such as Christmas in Fairfax and July 4th celebration – and now benefiting through our increasing music education and youth initiatives - we are looking forward to continuing to provide top caliber enjoyable music performances and innovative music education for future generations to come."
Michelle Veresink is a clarinet player in the Main Street Community Band.