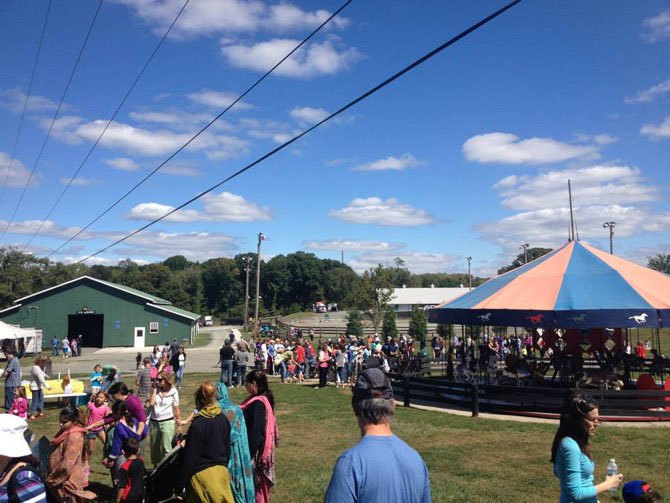 Children and parents alike can learn how to keep the planet healthy on Saturday.
The second annual Northern Virginia Sustainability Fair, an event to get children excited about the Earth's future, will be held 10 a.m. to 3 p.m. on Sept. 13 at Frying Pan Park.
"We are trying to raise awareness and inspire people," said The Three Birds Foundation Founder Joseph Plummer. "We want to show people of all ages that there are opportunities in their neighborhood to have a positive impact on their environment."
He said this is the first year the fair is operating under its new name.
The fair is geared to young families and will include wagon and carousel rides as well as hands-on activities from organizations throughout the area, like The Children's Science Center and Herndon Environmental Network [HEN].
"A lot of the organizations that we are working with are education focused," said Plummer. "We're trying to work it back into the classrooms, and we think that working with younger families is the way to do that."
He said that having a sustainability fair that appeals to children will hopefully create a generation that is aware of the world they live in - and want to protect it.
"We're going to have a booth with outreach materials about the community garden," said Herndon Environmental Network Co-President Cristina Lewandowski. "We always have a children's table with coloring activities. We're just hoping to educate.
HEN Vice President Barb Walsh said the Herndon community garden is still in the planning stages and still needs to be funded before the land can be bought.
She said she was worried when she found out some elementary students don't know where vegetables come from.
"It's scary they think that vegetables come from the supermarket," she said. "I have kids, and I'm looking at their future. The stuff we do now impacts them directly."
The Children's Science Center is another organization that will be at the fair for the second time.
"Primarily, we will be there to share our new museum location," said CSC Executive Director Adalene "Nene" Spivy.
The science center will also be bringing a hands-on exhibit, the "Power Up! Renewable Wind Energy" mobile exhibit - that is geared for young minds.
She said that sustainability means ensuring the future of the planet and inspiring the youngest generation to be a part of the solution.
"We have been working with The Three Birds Foundation for a while now," she said. "We share a lot of common with their mission to get kids inspired and excited."