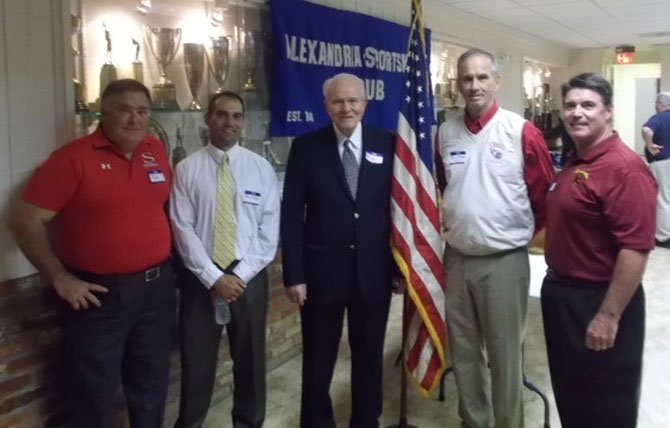 With the new school year under way, the Alexandria Sportsman's Club kicked off the fall sports season Sept. 16 at the ASC High School Football Coaches Night. All four of the city's high school coaching staffs were represented as the crowd in attendance received an overview of the challenges that each program will face in their quest to repeat recent gridiron successes.
Held at the Old Dominion Boat Club, the annual event offered a chance for the oft fierce competitors to share in a moment of camaraderie and appreciation for the city's rich football history as well as to converse about the direction in which each team's path is headed.
T.C. Williams High School football coach Dennis Randolph, who first arrived at the helm of the Titan football program in 2007, noted the departure of several prominent seniors and a young replacement core as a few of the frequent hurdles that every team eventually encounters. He also spoke, however, of a greater responsibility that every coach has to give their players in areas other than X's and O's.
The local club and nonprofit also presented Bishop Ireton Senior Drew Smith with its first citywide Student-Athlete of the Month Award for 2014-2015. Following a dominant junior campaign in which the Cardinal wide receiver caught a school-record 48 receptions, Bishop Ireton Coach Anthony Verducci praised Smith's leadership, toughness and commitment to excellence on and off the field.
The Alexandria Sportsman's Club will reconvene on Tuesday, Oct. 21 for its traditional Redskins Night. In addition to awarding another round of Student-Athlete of the Month awards to Alexandria's top high school athletes, members of the organization hinted that a Redskin great and former Pro-Bowler is expected to be in attendance as its guest of honor. For more information, visit www.alexandriavasports.org.