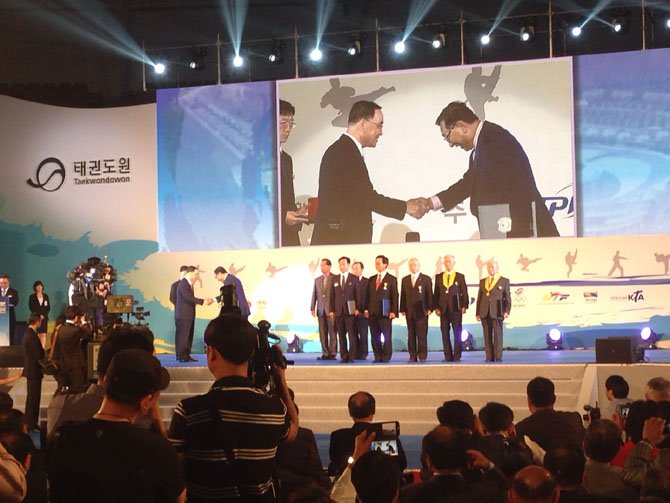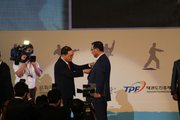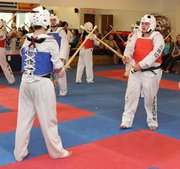 Herndon's H.K. Lee Academy of Tae Kwon Do Grandmaster H. K. Lee received a special Presidential Commendation from the President of the Republic of Korea, Geun-Hye Park. Grandmaster Lee was the first distinguished recipient to receive the Korean President's Commendation at the opening ceremony of The World Taekwondo Won in Muju, Republic of Korea on International Taekwondo Day, Sept. 4.
In the world of taekwondo this holds one of the highest honors any practitioner can receive. His accomplishments will be celebrated by all three major taekwondo organizations: Kukkiwon (World Taekwondo Headquarters), World Taekwondo Federation, and the World Taekwondo Promotion Foundation.
The newly built World Taekwondo Won (Park) will be the renowned site where practitioners can study and research the spirit, history, and culture of taekwondo. Grandmaster Lee was chosen for his years of leadership, service and commitment in the development of taekwondo, as well as his insight and contribution to the building of the new taekwondo park.
Grandmaster Lee's teachings and martial arts philosophy have reached thousands of students, and he currently oversees more than 500 active students. Taekwondo was created in Korea and developed over the course of 2,000 years. H.K. Tae Kwon Do was admitted into the Amateur Athletic Union (AAU) of the United States in 1974 and recognized by the U.S. Olympic Committee in 1978. It is now also a Junior Olympic sport and part of the Pan American Games. The sport will be included in the Fairfax 2015 World Police and Fire Games.
Grandmaster H.K. Lee was born in Korea and later immigrated to the United States where he made Herndon his second home. He received U.S. citizenship in 1981. First established in 1973, the H.K. Lee Academy of Tae Kwon Do is located at 465 Herndon Parkway, Herndon. "I sincerely thank everyone, especially my wife Gail, my mother, all the other family, H.K. Lee academy of TaeKwonDo Masters and students, along with other taekwondo families worldwide. Without your support, this honor may not have been granted to me," H.K. Lee said.
For more information on the martial arts studio and services visit www.hkleetkd.com.
UPDATED: This story has been changed to reflect some style corrections.
More like this story